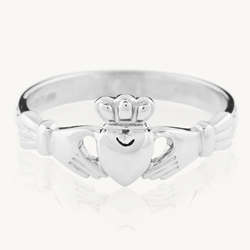 The iconic Claddagh - the perfect statement of Love Loyalty and Friendship
New York, NY (PRWEB) July 30, 2014
Finding the perfect piece of wedding jewelry can be tricky. Every wedding couple has spent endless days in the search for that perfect wedding band, or wedding party gift that succinctly sums up exactly how they feel about that special someone. Here Siofra Hill, co-founder of the leading online Irish jewelry store Celtic Promise, explains the story behind the iconic Irish Claddagh - the perfect statement of love, loyalty and friendship.
"The Claddagh is a piece of jewelry that almost all of Irish heritage own, or gift, in their lifetime - from schoolyard sweethearts to newlyweds to lifelong friends," says Hill. "It's a timeless design that celebrates those special relationships in life."
There are three classic elements to the Claddagh design: two hands (friendship) holding a heart (love) and surmounted with a crown (loyalty). However this online store stays true to its promise of 'heritage jewelry with a contemporary twist' with a selection of traditional and modern Claddagh designs from some of Ireland's leading jewelry designers.
For the perfect bridesmaid gift, Hill recommends the store's Pretty Claddagh Pendant by Dublin designer Declan Killen, or their range of personalized Claddagh Birthstone Pendants, new to the store this summer, which can be customized to match a bridal color scheme.
For groomsmen, the store holds a selection of both traditional and modern Claddagh cufflink designs as well as some great retro-style Claddagh tie tacks for those that are in search for something a little more unique.
In addition to being a popular gift of friendship, the Claddagh ring is often worn as a declaration of love and so makes a popular promise ring, engagement and wedding band choice. The heart of the Claddagh pointing towards the wearer's fingers indicates that they are engaged. Once married, the heart points towards the wearer's heart indicating the purest and most noble affections – love, loyalty and friendship – have been sworn in the bond of marriage.
Discover more at CelticPromise.com.
About Celtic Promise
Founded in 2010, online retailer Celtic Promise was started by Irish born entrepreneur Siofra Hill. The website CelticPromise.com promotes the talents of Irish jewelry designers to an International audience. With a product offering of over 700 traditional Celtic jewelry and contemporary Irish jewelry products, Celtic Promise has quickly become one of the leading Irish jewelry companies selling online in the US and Internationally.