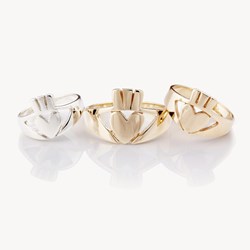 Deciphering the legend of the iconic Irish Claddagh Ring.
New York, NY (PRWEB) September 26, 2013
The heart, the crown, the hands – it's a symbol known to many, but a secret known by few – the Claddagh ring has been worn by generations of Irish as a symbol of love, loyalty and friendship. On a mission to connect Irish jewelry with online shoppers in the US and internationally, Celtic Promise co-founder Siofra Hill provides a simple guide to the wearing of this iconic ring design.
"In this age of mobile apps and internet dating," says Hill, "it is interesting to know that the Irish figured out a secret code to romantic availability way back in the 1700s. We were way ahead of the times!"
Worn on the right hand, with the heart pointing outwards towards the fingers is a declaration that the wearer's heart is there for the taking. Heart towards the wearer's wrist indicates that their heart has already been captured.
If worn on the left hand, the Claddagh ring is unsurprisingly a popular promise ring, engagement and wedding band choice. The heart of the Claddagh pointing towards the wearer's fingers indicates that they are engaged. Once married, the heart points towards the wearer's heart indicating the purest and most noble affections – love loyalty and friendship – have been sworn in the bond of marriage.
"These days the Claddagh is not just a symbol of relationship status", adds Hill, "but it is a very popular choice as a gift of friendship or heritage, gifted between friends and passed down through generations".
Staying true to its ethos of 'heritage jewelry with a contemporary twist', Celtic Promise aims to spread the story of the Claddagh by showcasing a range of traditional and modern Claddagh designs by some of Ireland's leading goldsmiths.
Discover more at CelticPromise.com.
About Celtic Promise
Founded in 2010, online retailer Celtic Promise was started by Irish born entrepreneur Siofra Hill. The website CelticPromise.com promotes the talents of Irish jewelry designers to an International audience. With a product offering of over 700 traditional Celtic jewelry and contemporary Irish jewelry products, Celtic Promise has quickly become one of the leading Irish jewelry companies selling online in the US and Internationally.