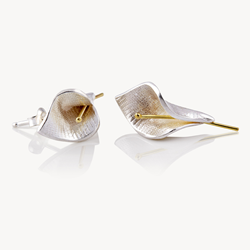 Inspired by wildflowers growing in the fields and hedgerows around Ireland, discover the symbolism and meaning behind these pretty flower jewelry designs.
New York, NY (PRWEB) February 28, 2014
The days are getting longer and the shoots are re-emerging after their winter sleep. Spring is here and with it the demand for pretty flower jewelry is in full bloom. Irish jewelry retailer Siofra Hill, co-founder of leading online store 'Celtic Promise,' takes time to explain the meaning behind some of the Irish wildflower jewelry designs that prominently feature in her online store:
The elegant white Lily Flower is a symbol of peace and reconciliation and is found growing wild in marshy fields around Ireland. "In a country with such a rich but troubled past, the Lily is a very powerful symbol in Ireland" says Hill. This store's very popular range of peace Lily flower earrings and pendants by Linda Uhlemann are made of textured silver with the center of the flower crafted in 18ct gold.
'My love is like a red red rose', or so the popular Robert Burns poem goes, but what of a silver rose pendant? "The beauty of a silver rose pendant" says Hill "is that the sentiment is open to the interpretation of the wearer". White roses symbolize virtue and chastity, yellow roses represent friendship - a rose handcrafted in sterling silver by award winning goldsmith Martina Hamilton makes a perfect, timeless gift for almost any occasion.
Throughout the summer the lanes and hedges of Ireland are filled with the pretty pink and purple flowers of the Fuchsia dancing in the breeze. With their delicate 'eardrop' shape, they are said to represent confiding or secret love. Inspired by the little girls living in the countryside who pick the blossom and hang them from their ears and necks to make dainty jewelry, the team at Celtic Promise has curated a range of silver fuchsia jewelry by Dublin designer Linda Ulhemann in their online store.
An iconic symbol of Ireland, the store stocks a selection of Shamrock pendants, earrings and brooches by some of the country's leading goldsmiths. A kin to the Irish themselves, the shamrock is a symbol of lightheartedness, good fortune and good luck. "My personal favorite is our Pretty Shamrock Brooch by Dingle designer Brian De Staic", says Hill. "It brings back very fond memories of my grandmother's shamrock laden lapel on St Patrick's Day".
As well as stocking his Shamrock range, the store showcases an exciting new flower jewelry collection by De Staic – his pretty "Dingle Bells" earring range in sterling silver with a beaded center: The Bluebell, representing humility and gratitude; The Lily of the Valley, representing happiness; The Snowdrop, representing hope.
Staying true to its ethos of 'heritage jewelry with a contemporary twist,' Celtic Promise aims to spread the story of Irish jewelry design by showcasing a range of traditional and modern flower designs by some of Ireland's leading goldsmiths.
Discover more Wild Flower Jewelry at CelticPromise.
About Celtic Promise
Founded in 2010, online retailer Celtic Promise was started by Irish born entrepreneur Siofra Hill. The website CelticPromise.com promotes the talents of Irish jewelry designers to an International audience. With a product offering of over 700 traditional Celtic jewelry and contemporary Irish jewelry products, Celtic Promise has quickly become one of the leading Irish jewelry companies selling online in the US and Internationally.