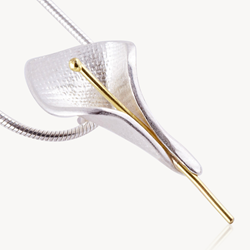 Banish those 'April Showers' blues with 10% Off Irish Flower Jewelry
New York, NY (PRWEB) March 31, 2014
'April showers bring May flowers', or so the traditional rhyme goes. Online Irish jewelry store CelticPromise.com aims to ban those rainy day blues associated with April's spring rains, by offering 10% Off all jewelry in their Irish Wildflower Collection this month.
The term "April showers" denotes the spring rains that hit the Northern Hemisphere, particularly Ireland and the UK, during the month of April. "Just as you think Spring has arrived", says Celtic Promise co-founder Síofra Hill, "the weather in Ireland in April can change in one day from sun to rain to snow. We want to celebrate, rather than lament these rains with this month's flower jewelry promotion!".
The store's Wildflower Jewelry Collection is inspired by the lush green landscapes and wild hedgerows of the Irish countryside. The collection incorporates designs ranging from award winning designer Martina Hamilton's abstract, sculptural flower designs inspired by the humble hogweed plant, to the delicate, intricate lily and fuchsia flower jewelry designs by Dublin based Linda Uhlemann.
CelticPromise.com showcases Celtic jewelry and contemporary designer jewelry from Ireland's leading designers. All jewelry in the store is representative of the founders' Irish heritage, which is the premise upon which the company is building the Celtic Promise brand.
The store's 10% Off All Irish Flower Jewelry promotion starts at midnight 31 March and runs throughout April. Discover more at CelticPromise.com.
About Celtic Promise
Founded in 2010, online retailer Celtic Promise was started by Irish born entrepreneur Siofra Hill. The website CelticPromise.com promotes the talents of Irish jewelry designers to an International audience. With a product offering of over 700 traditional Celtic jewelry and contemporary Irish jewelry products, Celtic Promise has quickly become one of the leading Irish jewelry companies selling online in the US and Internationally.