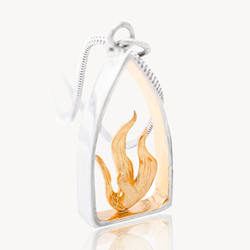 Celebrate Garrett Mallon launch with 10% off at CelticPromise.com
New York, NY (PRWEB) May 30, 2014
Celtic Promise, the leading online retailer of classic Celtic Jewelry and designer Irish jewelry, announces the launch of designer Garrett Mallon this weekend.
With over 25 years of experience in the jewelry industry, Garrett Mallon trained and worked in London and Dublin before setting up his studio on the scenic shores of his native Carlingford Lough, County Louth Ireland, in 2002. With deep roots and a sense of history living in this special place, Garrett's jewelry is inspired and animated by the local scenery and folklore of his magical surroundings.
"Garrett's beautiful jewelry designs are a perfect illustration of Ireland's strong tradition of storytelling and craft", says Celtic Promise co-founder Síofra Hill. "We are delighted to add Garrett to our stable of Celtic Promise designers".
Included in the store's range are Garrett's "Voyage" collection, inspired by the famous Irish folksong and popular with those setting out on a new voyage in life, as well as his "Celtic Flame" collection, representative of the legendary Celtic spirit.
Garrett Mallon is the fourteenth Irish designer to be added to the Celtic Promise website and marks the store's continued commitment to making designer Irish Jewelry more accessible to an international market.
To celebrate this launch, the store are taking 10% off all Garrett Mallon designs until 5 June. Discover more at CelticPromise.com
About Celtic Promise
Founded in 2010, online retailer Celtic Promise was started by Irish born entrepreneur Siofra Hill. The website CelticPromise.com promotes the talents of Irish jewelry designers to an International audience. With a product offering of over 700 classic Celtic jewelry and contemporary Irish jewelry designs, Celtic Promise has quickly become one of the leading Irish jewelry companies selling online in the US and Internationally.