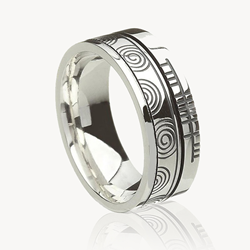 Say "Hello October" with 10% off and free shipping at CelticPromise.com
New York, NY (PRWEB) September 30, 2014
Holiday merchandising on the Main Street and malls are starting earlier and earlier each year. Leading online Celtic jewelry company CelticPromise.com aims to compete with the start of holiday merchandising by offering 10% off all jewelry and free shipping to the US, Canada, UK and Ireland.
The last three months of the year, October through December, is known as the "golden quarter" in which the retail industry hopes to make the most profit. "Online stores do not have the benefit of passing footfall", says Celtic Promise co-founder Síofra Hill. "However neither do we have the financial overheads of a Main Street store, allowing us to compete on price versus our bricks and mortar competition."
Celtic Promise is the leading online store for beautifully hand crafted Celtic jewelry and contemporary Irish jewelry design. Their mission is to bring you individual and carefully made pieces that are usually only found at local craft fairs and hard to find, exclusive, design stores.
The web based company promises 'heritage jewelry with a contemporary twist', and is confident that it offers the perfect gifts for friends and family this holiday season.
The store's 'Hello October" promotion starts at midnight 30 September and runs until midnight on Sunday 5 October. More information about the promotion is available on the Celtic Promise website.
About Celtic Promise
Founded in 2010, Celtic Promise was started by Irish born entrepreneur Siofra Hill. The website CelticPromise.com promotes the talents of Irish jewelry designers to an International audience. With a product offering of over 700 traditional Celtic jewelry and contemporary Irish jewelry products, Celtic Promise has quickly become one of the leading Irish jewelry companies selling online in the US and Internationally.