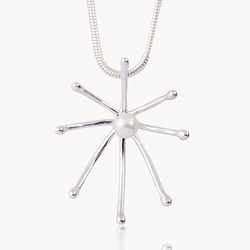 She may say she has it all, but secretly every woman is hoping for that perfect piece of jewelry this Holiday Season
New York, NY (PRWEB) October 31, 2013
The holidays are rapidly approaching, the annual panic is starting to set in - what do you buy for the women in your life this Christmas? Out to prove that the best of gifts really do come in small packages, Siofra Hill, co-founder of leading online Irish jewelry company 'Celtic Promise', gives her pick of top five jewelry gifts for the 2013 Holiday Season.
The Perfect Pendant - "Every woman is in search of the perfect pendant to transform even the plainest 'little black dress' into something more glamorous" says Hill. "This is especially true over the Holiday party season". Hill's pick from their Statement Pendant collection is the Astral Pearl Pendant by designer Martina Hamilton which won an Editors' Choice Award at the International Jewelry London fair earlier this year.
Make it Personal - "Don't just get her a piece of jewelry made out of some unknown stone simply because they are on sale," advises Hill. "Make it mean something" Celtic Promise has seen high demand for its personalized jewelry collection including their Celtic Birthstone rings and pendants, which make a great gift for moms, as well as their minimalist Ogham engraved pendants and rings which can be personalized with a secret message of choice.
Iconic Design - What other Holiday gift can sum up your feelings so succinctly as the iconic Claddagh design? A striking design featuring a Heart (love) Crown (loyalty) and Hands (friendship), this centuries old Irish design makes a great gift between friends or for the woman you love.
A Unique Charm Bracelet – Traditionally charms are collected over a lifetime to celebrate life's special moments, so it's important to pick a charm bracelet that she will love. Celtic Promise offers a truly beautiful take on the popular trend with designs by Button&Co. Their unique charm jewelry, inspired by a mother's rusty old button tin, is a unique alternative in a market that has become saturated by beaded charm jewelry designs.
A Diamond Ring – "Make it a holiday gift she won't ever forget," says Hill. This year the store has seen a big increase in sales of their Trinity Knot engagement ring designs with their unique promise to Love Honor and Protect. As if Thanksgiving, Christmas, Hanukah and New Year's Eve weren't celebration enough, more than one in four grooms propose to their brides over the holiday season.
CelticPromise.com showcases Celtic jewelry and contemporary designer jewelry from Ireland's leading designers. The web based company promises 'heritage jewelry with a contemporary twist', and is confident that it offers the perfect gifts with meaning for friends and family this holiday season.
Discover more at CelticPromise.com.
About Celtic Promise
Founded in 2010, online retailer Celtic Promise was started by Irish born entrepreneur Siofra Hill. The website CelticPromise.com promotes the talents of Irish jewelry designers to an International audience. With a product offering of over 700 traditional Celtic jewelry and contemporary Irish jewelry products, Celtic Promise has quickly become one of the leading Irish jewelry companies selling online in the US and Internationally.