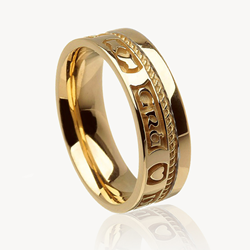 Irish jewelry store CelticPromise.com expand their range of modern Celtic wedding ring and promise ring designs
New York, NY (PRWEB) August 27, 2014
In a market that is saturated with traditional and often dated design, leading online Irish jewelry store CelticPromise.com continues to bring fresh and innovative hand crafted jewelry to the international market. Today the store's founder Siofra Hill announced the expansion of their Faith and Siorai ring collections which combine ancient Celtic tradition with modern jewelry design.
"With over 40million claiming Irish heritage around the world, there has always been a big demand for Irish and Celtic jewelry", says Hill, "What has changed in recent years is the demand from a younger demographic in search of cleaner, more contemporary ring designs".
The store's Faith and Siorai Celtic wedding ring and promise ring designs feature iconic Irish symbols including the Claddagh, Celtic cross and Celtic knot patterns which are precision cut to give a sleek, modern finish. All of the rings are hand crafted to order in Dublin based designer Paul O'Neill's studio and are hallmarked in Dublin Castle to assure quality.
This announcement continues the store's promise to provide 'heritage jewelry with a contemporary twist' for an international audience, the premise on which the store continues to build its brand.
Discover more at CelticPromise.com.
About Celtic Promise
Founded in 2010, online retailer Celtic Promise was started by Irish born entrepreneur Siofra Hill. The website CelticPromise.com promotes the talents of Irish jewelry designers to an International audience. With a product offering of over 700 traditional Celtic jewelry and contemporary Irish jewelry products, Celtic Promise has quickly become one of the leading Irish jewelry companies selling online in the US and Internationally.