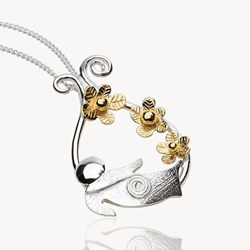 Take the panic out of shopping for Mom this Mother's Day, May 11, with a pick of the top five jewelry gifts from leading Irish jewelry store CelticPromise.com.
New York, NY (PRWEB) April 30, 2014
Mother's Day is rapidly approaching and the search is on - what do you buy to tell the most important women in your life this May 11? Why not avoid the last minute rush for flowers, or the disappointment of 'just a phone call' this Mother's Day by following this Mom's Gift Guide by Síofra Hill, co-founder of leading Celtic and Irish Jewelry store CelticPromise.com.
Luck Child Pendant - 'One day she will come into her own and then she will give us each our hearts wish' or so goes the ledgend of the Irish Luck Child, celebrating the joy of motherhood and the magic that a child brings to a family. This pretty pendant by Irish designer Garrett Mallon makes the perfect gift for new, or expectant, moms.
Family Birthstone Ring - Every mom likes to keep family close to their hearts. Celebrate that love with a personalized family Birthstone Ring or a birthstone pendant featuring the birth months of those she loves. Knowing that you have put that extra little bit of thought into her gift will surely win over any sentimental mom this Mother's Day!
Claddagh Jewelry - What better way to sum up your relationship with your mom than with a declaration of 'Love, Loyalty and Friendship' represented by the iconic Irish Claddagh design? Celtic Promise stays true to its ethos of 'heritage jewelry with a contemporary twist' with designs ranging from the Classic Claddagh ring, to a modern Claddagh Pearl Necklace new to the store this Mother's Day.
Say it with Flowers - Flowers are the classic Mother's Day gift. What she won't be expecting is a piece of hand crafted flower jewerly which she will still love after those fresh flowers fade. Inspired by the array of flowers growing wild in the fields and hedgerows of Ireland, Hill's top picks are the beautiful Lily and Fuchsia designs by Dublin designer Linda Uhlemann - the perfect gift for earthy moms.
Statement Jewelry - "As a mother of three young children, life can sometimes feel like an endless cycle of unglamorous chores", says Hill. "A piece of statement jewelry however will always make me feel fabulous". Hill's pick from their Statement Pendant collection is the Oyster Pearl Pendant by award winning Irish designer Martina Hamilton.
CelticPromise.com showcases Celtic jewelry and contemporary designer jewelry from Ireland's leading designers. The web based company promises 'heritage jewelry with a contemporary twist', and is confident that it offers the perfect gifts with meaning for all moms this Mother's Day.
Discover more at CelticPromise.com.
About Celtic Promise
Founded in 2010, online retailer Celtic Promise was started by Irish born entrepreneur Siofra Hill. The website CelticPromise.com promotes the talents of Irish jewelry designers to an International audience. With a product offering of over 700 traditional Celtic jewelry and contemporary Irish jewelry products, Celtic Promise has quickly become one of the leading Irish jewelry companies selling online in the US and Internationally.