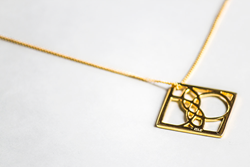 Northern Irish jewelry designer Geraldine Kane to join CelticPromise.com
New York, NY (PRWEB) September 30, 2014
Today, the leading online Irish jewelry store Celtic Promise announce the signing of Northern Irish designer Geraldine Kane to their online store.
Kane has been designing, making and exhibiting both conceptual and fashion jewelry for over 10 years, working in metal, wood and stone. Her desire to bring the richness of Irish culture and the beauty of Irish landscapes to modern jewelry design is a perfect pairing for Celtic Promise's ethos of 'heritage jewelry with a contemporary twist'.
"I love conceptual design, telling a story through process, material and form", says Kane. "Storytelling is a quality that is synonymous with Irish culture so I felt it was an important element to explore when developing my jewelry collections".
Celtic Promise has worked with Kane to curate a select collection of jewelry for this online store's international customers. The selection includes pieces from the designer's Lasa collection inspired by Celtic knot designs and her minimalist Cloch collection which was inspired by the dry stone walls which dot the Irish landscapes.
Jewelry by Geraldine Kane will be available to buy from early October. Visit CelticPromise.com for further details.
About Celtic Promise
Founded in 2010, online retailer Celtic Promise was started by Irish born entrepreneur Siofra Hill. The website CelticPromise.com promotes the talents of Irish jewelry designers to an International audience. With a product offering of over 700 classic Celtic jewelry and contemporary Irish jewelry designs, Celtic Promise has quickly become one of the leading Irish jewelry companies selling online in the US and Internationally.