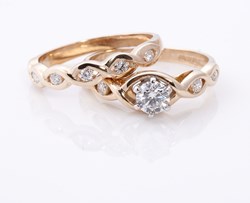 Celtic Promise celebrates its second birthday with 10% off all jewelry this weekend plus free shipping to US, Canada, UK and Ireland
New York, NY (PRWEB) August 22, 2013
Frustrated by her inability to source quality Irish jewelry designs outside of Ireland, leading Irish jewelry store Celtic Promise was launched by Irish born entrepreneur Síofra Hill in 2011. Celebrating its continued success, this weekend the store marks its second birthday by offering customers 10% off all jewelry plus free shipping to the US, Canada, UK and Ireland.
In the ever competitive world of online retail, the first two years of operations have proved to be extremely positive for the business which is seeing continued monthly growth in sales. In a market that had become saturated with low-end dated online businesses, Celtic Promise has found its niche by offering customers a fresh, more contemporary take on Celtic and Irish jewelry.
"Our aim is to challenge the preconceptions of Irish jewelry, by merging traditional Celtic design and craftsmanship with contemporary jewelry fashions", says Hill. "It's an exciting time for Irish designers - we want to share that with an international audience."
In its opening two years trading, Celtic Promise has seen high demand for its selection of fine jewelry including exclusive Celtic engagement rings and wedding bands, as well as its affordable range of jewelry all hand crafted to order and shipped from Ireland. The web based company promises 'heritage jewelry with a contemporary twist' and showcases traditional and contemporary designer jewelry from Ireland's leading designers.
The store's '10% Off and Free Shipping' promotion runs from Friday 23 August and runs until midnight on Monday 26 August. More information about the promotion is available on the Celtic Promise website.
About Celtic Promise
Founded in 2010, Celtic Promise was started by Irish born entrepreneur Siofra Hill. The website CelticPromise.com promotes the talents of Irish jewelry designers to an International audience. With a product offering of over 700 traditional Celtic jewelry and contemporary Irish jewelry products, Celtic Promise has quickly become one of the leading Irish jewelry companies selling online in the US and Internationally.