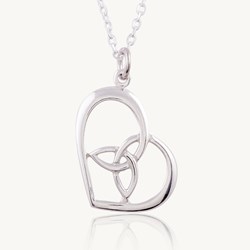 New York, NY (PRWEB) December 02, 2013
Leading online Irish jewelry store 'Celtic Promise' is set to attract customers this 'Cyber Monday', the recently coined term for the upswing in online sales the Monday following Thanksgiving and retail store rush 'Black Friday'.
85 percent of consumers planned on skipping the stores on Black Friday this year, with nearly half of consumers (46%) saying they would shop online on Cyber Monday instead (source Nielson Holiday Spending Forecast).
"We may not get the natural footfall of our mall based competitors", says Celtic Promise founder Siofra Hill, "but without those high rents, the online stores can offer more competitive pricing to savvy online shoppers".
This Cyber Monday Hill hopes to entice customers by offering 15% off all online purchases plus Free Shipping on all orders to the US, Canada, UK and Ireland. "Though all of our jewelry is hand crafted to order, we pride ourselves on consumer friendly pricing" says Hill. "Cyber Monday gives us the opportunity for one last big push for Holiday sales".
Celtic Promise stays true to its motto of 'heritage jewelry with a contemporary twist' by showcasing fine Celtic jewelry and contemporary designer jewelry from Ireland's leading goldsmiths. Hand crafted in Ireland, a nation known for its exquisite craftsmanship and storytelling, this store's jewelry makes the perfect gift for friends and family this holiday season.
The store's '15% Off and Free Shipping' promotion starts at midnight 30 November and runs until midnight on Cyber Monday 2 December. More information about the promotion is available on the Celtic Promise website.
About Celtic Promise
Founded in 2010, Celtic Promise was started by Irish born entrepreneur Siofra Hill. The website CelticPromise.com promotes the talents of Irish jewelry designers to an International audience. With a product offering of over 700 traditional Celtic jewelry and contemporary Irish jewelry products, Celtic Promise has quickly become one of the leading Irish jewelry companies selling online in the US and Internationally.