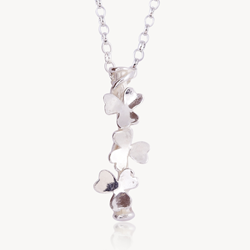 Celebrate in style this St Patrick's Day with 10% off at Irish jewelry store CelticPromise.com
New York, NY (PRWEB) March 14, 2014
Irish jewelry retailer Celtic Promise is set to celebrate its Irish heritage this St Patrick's Day weekend with an exclusive promotion across all jewelry in their online store. With an estimated 80 million people worldwide claiming Irish heritage, the store hopes to cash in on this weekend's holiday mood.
Ireland's national holiday on March 17th is named after the country's patron saint, St Patrick, and is the one national holiday that is celebrated in more countries around the world than any other.
"Paddy's Day is a day when everyone wants to be Irish", says company co-founder Siofra Hill, "It's a real opportunity to celebrate Ireland's rich culture and heritage, the premise on which the Celtic Promise brand is built".
Launched in 2011, CelticPromise.com has quickly become the go-to store to source fine Celtic jewelry and more contemporary Irish designer jewelry online. The store represents an exclusive collection of Ireland's leading goldsmiths, and curates a hand picked collection of beautiful hand crafted jewelry for an international audience.
The wearing of the most iconic of Irish emblems, the three leaved plant, the Shamrock has become a ubiquitous feature of St Patrick's Day. The Celtic Promise Wild Flower Jewelry collection features pretty shamrock pendant, earring and shamrock brooch designs by leading Irish designers including Brian De Staic and Martina Hamilton. Said to have been used by Saint Patrick to explain the Holy Trinity to the pagan Irish, the shamrock has been used as a symbol of Ireland since the 18th Century.
In addition to shamrock jewelry, the store offers traditional Celtic knot jewelry, Celtic cross pendants and Claddagh designs as well as a fun collection of Lucky Irish Charm pendants all of which celebrate the company's Irish heritage.
To celebrate this 'Paddy's Weekend', Hill hopes to entice customers by offering 10% off all online purchases plus free Shipping on all orders to the US, Canada, UK and Ireland. The holiday promotion starts on Friday 14 March and runs until midnight on St Patricks Day 17 March. To avail of this offer customers simply enter coupon PADDY10 at checkout.
Discover more at CelticPromise.com
About Celtic Promise
Founded in 2010, Celtic Promise was started by Irish born entrepreneur Siofra Hill. The website CelticPromise.com promotes the talents of Irish jewelry designers to an International audience. With a product offering of over 700 traditional Celtic jewelry and contemporary Irish jewelry products, Celtic Promise has quickly become one of the leading Irish jewelry companies selling online in the US and Internationally.