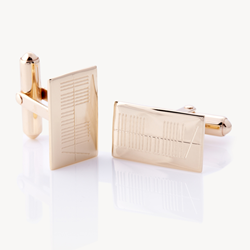 Take the stress out of Father's Day shopping with this Father's Day Gift Guide from CelticPromise.com.
New York, NY (PRWEB) May 28, 2014
Tired of those awkward Father's Day man-hugs? Not sure that you can face another embarrassing year of gifting your dad socks or neckties this Father's Day? Celtic Promise co-founder Siofra Hill aims to take the stress out of the search for a unique and personal gift with her Gift Guide for Dads from the leading online Irish jewelry store.
The Proud Dad - Most fathers wear their hearts on their sleeves in their adoration for their children, making personalized cufflinks the ideal gift for the proud dad. Avoid the predictable, by choosing a pair Ogham Engraved Cufflinks which combine the ancient tradition of ogham, the ancient Celtic linear script, with sleek modern design.
The Retro Dad - He thinks he's cool, but sometimes your dad's style is simply embarrassing? Hill recommends an on-trend retro tie-tack to give his outfit some real retro style and personality. The Celtic Promise range includes hand crafted Celtic Knot designs representing eternal love for that special father figure in your life.
The Classic Dad - How to sum it up in a single gift? Declare your 'Love Loyalty and Friendship' for dad with a piece of iconic Irish jewelry design - the Claddagh. Celtic Promise stays true to its ethos of 'heritage jewelry with a contemporary twist' with designs ranging from Classic Claddagh cufflinks, to modern Claddagh ring designs from some of Ireland's leading jewelry designers.
The Sentimental Dad - "When we started the voyage it was just me and you / Now gathered round us we have our own crew". Inspired by 'The Voyage', the famous Irish folk song which depicts life as a journey on the ocean waves, how about a pair of Voyage Cufflinks depicting a sailboat with two passengers for Mr. Sentimental? "Your dad would be in good company," adds Hill. "These cufflinks have also been worn by Irish president Michael D. Higgins!"
The Rocker Dad - Whether a statement of faith or fashion, the Celtic Cross is a classic rock star must-have piece. Hill's top pick is the store's Modern Faith Cross by Dublin designer Paul O'Neill. Simple and stylish, this cross features an inlaid Celtic Trinity Knot design in 18k gold, representing things and persons threefold such as the relationship between father mother and child, and the word "Faith" in Ogham, the ancient Celtic script.
CelticPromise.com showcases Celtic jewelry and contemporary designer jewelry from Ireland's leading designers. The web based company promises 'heritage jewelry with a contemporary twist', and is confident that it offers the perfect gifts with meaning for all dads this Father's Day.
Discover more at CelticPromise.com.
About Celtic Promise
Founded in 2010, online retailer Celtic Promise was started by Irish born entrepreneur Siofra Hill. The website CelticPromise.com promotes the talents of Irish jewelry designers to an International audience. With a product offering of over 700 traditional Celtic jewelry and contemporary Irish jewelry products, Celtic Promise has quickly become one of the leading Irish jewelry companies selling online in the US and Internationally.