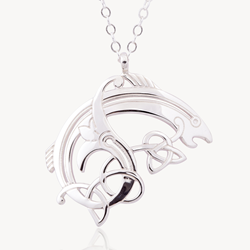 Celebrate top graduation gifts for the Class of 2014 with 10% off at leading online Irish jewelry store CelticPromise.com.
New York, NY (PRWEB) June 24, 2014
Schools out for summer - graduation season is here. It's time to reward that special graduate with a gift to mark the completion of all their hard work and the celebration of new beginnings. Here, Siofra Hill, co-founder of the leading online jewelry store Celtic Promise, takes time to select her top Irish jewelry picks for the class of 2014.
Salmon of Knowledge Pendant - It is said that the Celtic Warrior Fionn Mac Cumhaill gained all the knowledge of the world when he tasted the Salmon of Knowledge. As a Celtic mythological symbol of knowledge, this Celtic knot pendant makes a perfect graduation gift and has become a firm favorite at Celtic Promise.
Voyage Cufflinks - Worn by the Irish president, inspired by the legendary Irish folksong, these sculptural boat cufflinks are great for those about to embark on a new journey in their life. Rich in meaning, the Voyage cufflinks and pendant collections are handmade on the edge of Ireland's Carlingford Lough by leading Irish goldsmith Garrett Mallon.
Ogham Engraved Jewelry - The perfect scholarly gift, how about a piece of jewelry engraved in Ogham, the ancient Celtic linear script? Combining ancient tradition with sleek modern design, let the graduate decipher your secret message where a series of elegant grouped lines represent modern letters.
Lucky Charm Pendant - "Success in life requires a whole lot of hard work" says Hill, "but a little bit of luck always helps along the way!" Wish your graduate luck with a piece from the store's collection of Lucky Charm Pendants which include the iconic Irish Shamrock, Lucky Horseshoe and playful Pot of Gold designs.
Celtic Knot Jewelry - As far back as 500 AD, Ireland, with its monks and monasteries, were at the center of learning in Europe, earning Ireland the title 'Land of Saints and Scholars'. The intricate Celtic designs that adorn ancient monuments and manuscripts of Ireland are a legacy of this time, and serve as inspiration behind the collection of Celtic Knot jewelry in this online store.
Celtic Promise are celebrating graduation season by offering 10% off all jewelry in their online store until midnight June 30 with coupon GRADUATE10.
Discover more at CelticPromise.com.
About Celtic Promise
Founded in 2010, online retailer Celtic Promise was started by Irish born entrepreneur Siofra Hill. The website CelticPromise.com promotes the talents of Irish jewelry designers to an International audience. With a product offering of over 700 traditional Celtic jewelry and contemporary Irish jewelry products, Celtic Promise has quickly become one of the leading Irish jewelry companies selling online in the US and Internationally.