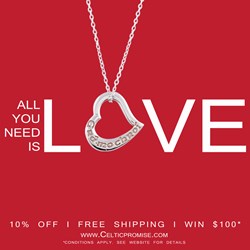 10% Off, Free Shipping and a chance to Win $100
New York, NY (PRWEB) January 31, 2014
With 6 million Americans planning to propose, or expecting a proposal, this Valentine's Day and an expected market of $4.4 billion of silver, gold and diamond sales expected in the wider jewelry industry (source CNN), retailers including leading online Irish jewelry store 'Celtic Promise' are creating ways to help jewelry sales.
"Valentine's Day is a great springboard to get customers buying again after Christmas, for engagement rings, Valentine's gifts or even gifts for themselves," says company co-founder Síofra Hill.
In addition to offering customers 10% off all jewelry plus free shipping this weekend, all who purchase in the run up to Valentine's Day are in with a chance of winning their "All You Need Is Love" $100 voucher to spend in their online store.
Celtic Promise is the leading online store for beautifully hand crafted Celtic jewelry and modern Irish jewelry design. Their mission is to bring you individual and carefully made pieces that are usually only found at local craft fairs and hard to find, exclusive, design stores.
The web based company promises 'heritage jewelry with a contemporary twist', and is confident that it offers the perfect romantic gifts for loved ones this Valentine's Day.
The store's '10% Off and Free Shipping' promotion starts 30 January and runs until midnight on Sunday 2 January. Their "All you Need Is Love" $100 promotion runs from now until midnight 14 February. More information about these promotions is available on the Celtic Promise website.
About Celtic Promise
Founded in 2010, Celtic Promise was started by Irish born entrepreneur Siofra Hill. The website CelticPromise.com promotes the talents of Irish jewelry designers to an International audience. With a product offering of over 700 traditional Celtic jewelry and contemporary Irish jewelry products, Celtic Promise has quickly become one of the leading Irish jewelry companies selling online in the US and Internationally.