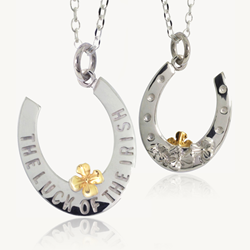 World Cup Fever - Evoke the legendary luck of the Irish 15% Off Lucky Charm Jewelry at CelticPromise.com
New York, NY (PRWEB) June 30, 2014
World cup fever is heating up and excitement is building as teams battle it out to progress to the final rounds of the competition. With more Irish passport holders living outside of Ireland than within, Irish jewelry store CelticPromise.com is urging Irish expats to support their adopted teams with a lure of 15% off all Lucky Irish Charm jewelry until midnight of July 5th.
Customers can chose from the store's collection of Lucky Charm pendants including the classic Horseshoe design and a choice of iconic Lucky Irish Shamrock designs - both said to evoke the legendary luck of the Irish.
"The Celts are renowned for their fighting spirit", adds Celtic Promise co-founder Síofra Hill, "Carry some of that determination with you with our new Celtic Flame Designs". The sculptural Celtic Flame pendants represent by leading Irish designer Garrett Mallon represent the strength of the Celtic spirit - often tested but never extinguished.
Also on offer are the store's collection of designer Button Charm jewelry by award winning Irish design team Button&Co. Inspired by her mother's rusty old button tin, designer ElaineSarah Comerford creates exquisite charm bracelets and pendants to collect and to mark life's precious memories.
Customers have until midnight 05 July to avail of this offer by using coupon LUCKY15 at checkout. Discover more at CelticPromise.com.
About Celtic Promise
Founded in 2010, online retailer Celtic Promise was started by Irish born entrepreneur Siofra Hill. The website CelticPromise.com promotes the talents of Irish jewelry designers to an International audience. With a product offering of over 700 traditional Celtic jewelry and contemporary Irish jewelry products, Celtic Promise has quickly become the top Irish jewelry store selling online in the US and Internationally.