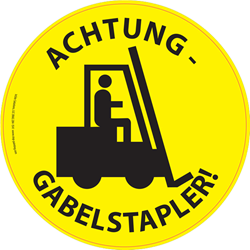 Wake Forest, NC (PRWEB) May 16, 2014
Stop-Painting.com is excited to make their first apperance at the CeMAT trade show in Hannover, Germany. Stop-Painting.com will be highlighting their Superior Mark floor tape. This unique tape has great 5S applications and helps create a safe and functional workplace environment. Superior Mark is unique among other floor marking tapes because of its beveled edges and recessed adhesive making it one of the most durable tapes on the market. Using Superior Mark, Stop-Painting.com will be demonstraing their corner markers used for pallet organization and other 5S and Lean applications. A new line of products using the high quality Superior Mark floor tape are floor marking kits for emergency areas such as electrical panels, eye wash stations, fire extinguishers, and AED kits. These kits ensure a quick response time and help keep clutter from obstructing these high priority areas. Along with their Superior Mark tape, Stop-Painting.com will be offering high quality rubber floor signs. These floor signs are much more durable than vinyl and can be completely customized to fit any warehouse needs and help develop an efficient 5S methodology.
Lastly, Stop-Painting.com will have their newly desgined Kaizen cart to showcase. This newly designed cart is a great asset for any warehouse using Superior Mark floor tape. Each cart has tape storage racks to hold up to five rolls of two inch tape and two rolls of four inch tape. Located at the top of the cart is a storage bin to contain records for floor markings to help warehouses stay up to date with their floor marking needs. Attached to the side of the cart is a tool storage bin for scissors or razors used in the application of the floor tape. Furthermore, the cart itself is a tamper cart to ensure the tape is installed correctly every time.
The show will begin this month on the 19th and end the 23rd. Hannover is only one of several locations of the CeMAT trade show including Moscow, Shanghai, and Delhi during 2014. CeMAT is one of the largest trade shows in the European Union and the leading show to feature intralogistics. This year's show will boast over 1,000 exhibitors from thirty five countries and up to 53,000 visitors, and of these 53,000 visitors 80% are thought to be major decision makers of their representative companies.
"Smart-Integrated-Efficient" is the theme for this years show, and it will be trying to answer the question of perfectly timed global interaction during the show through exhibitors and forums. There are a few key areas of focus for the show such as port technology, special logistics, transport logistics, and production logistics. Therefore, Stop-Painting.com looks forward to offering their unique products to an ever expanding global market in order to contribute to efficent and integrated logistics. Stop-Painting.com will be located in Hall 13 at stand G22. They will have free samples of floor marking products and catalogs with a range of their logistical options.
Stop-Painting.com is excited to have a global audience at CeMAT and is looking forward to how they might play a role in creating smart, integrated, and efficient logistics.
Stop-Painting.com is a part of InSite Solutions, the manufacturer of Superior Mark tape.
Please visit Stop-Painting.com and Stop-Painting.de for Germam customers or call customer support at (919)569-6765.
InSite specializes in floor marking solutions that increase safety, organization, and efficiency in the workplace. They offer Superior Mark and a variety of other traffic control solutions for sale on their ecommerce website.