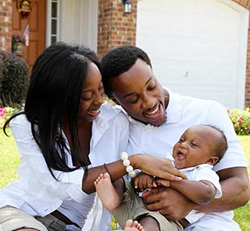 "While married couples with children were the majority decades ago, now nearly 57 percent of U.S. households are childless. In 2012, about 29 percent included childless married couples and nearly 28 percent included people living alone." ~ Reuters
Minneapolis, MN (PRWEB) September 25, 2013
Due to more sophisticated housing data measurement tools and processes, it is now possible to identify children living with two parents who are not married to each other, and we are learning the results from the latest Census Bureau report. The numbers are numbing, showing a dramatic reduction in children living with two married parents.
"Children flourish in the security of "family" where they personal identify with knowing they are central in the lives of both parents. When they know that home is a place where they are loved and a part of, they naturally are freer to be their great selves. Having two happily married parents living together and providing a home for them is the best scenario," believes Jenna Thuening, owner of Home Destination.
The composition of U.S. households is dynamic and changing local neighborhoods. A long-term shift in family composition has decreased the percentage of children living with two married parents, while single-parent households have become more common for children. While the trends continues to grow, studies show that overall, children fare better that are fortunate enough to live in a household made up of two happily married parents. The formation of American households has implications for critical parental and economic resources. according to the governments Child Stats website.
Key findings in the Census report that show the household changes include:
◾ Sixty-four percent of children ages 0–17 lived with two married parents in 2012, down from 77 percent in 1980.
◾ In 2012, 24 percent of children dwell in the home with only their mothers, 4 percent lived with only their fathers, and 4 percent lived without the home made up of either of their parents.
◾ Seventy-four percent of White, non-Hispanic, 59 percent of Hispanic, and 33 percent of Black children lived with two married parents in 2012.
◾ The proportion of Hispanic children living with two married parents decreased from 75 percent in 1980 to 59 percent in 2012, a staggering drop of 16 percent.
◾ Four percent of all children lived with two unmarried parents in 2012.
◾ Households made up of children living with two parents, had 92 percent living with both of their biological or adoptive parents, and 8 percent lived with a biological or adoptive parent and a stepparent.
◾ Six percent of children who lived with two biological or adoptive parents had parents who were not married.
"Decreases in the percentage of families with their own child under 18 at home reflect the aging of the population and changing fertility patterns," said Rose Kreider, family demographer at the U.S. Census Bureau. As the baby boomers have aged, they are more likely to be a households without children that are comprised of just themselves, although the number of multi-generational homes is growing.
"The housing trend toward single-parent homes includes every race, from what we are seeing in the Twin Cities. The changes in children's living arrangements is on-going. In the midst of a high demand for single-family homes, families continue to seek out prime neighborhoods with great schools and find that Minneapolis is a great place to live and raise a family.
A study by New Jersey Family Policy Council in conjunction with Family Research Council, finds that children have fewer problems at school and home when they live with both biological parents that share common values. Drs. Nicholas Zill and Philip Fletcher co-authored the new study which analyzes data from the National Survey of Children's Health. It concludes that children have fewer behavioral problems, less "life stresses, healthier relationships and accomplish greater educational achievements as benefits of strong family structures.
Twin Cities home buyers seeking to find a Minneapolis single-family home will find Jenna's passion for helping families find the a home in the metro can reach her by calling 612-396-7832.