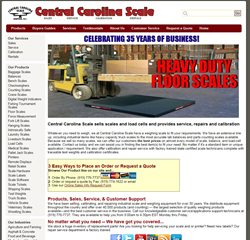 For the first time in over a decade, Central Carolina Scale customers will view a brand new website.
Sanford, NC (PRWEB) January 23, 2015
Central Carolina Scale recently launched the company's brand new website design. This is the first major update to the popular website in over a decade. With all of the functionality of the old site, this new website provides even more product information as well as solutions geared towards different markets. The website now incorporates many of the modern technologies that are popular in current web design. The company will still focus its attention to offering customers a complete selection of scales and weighing related equipment such as laboratory balances and strain gauge load cells along with other offerings such as scale repair, calibration service and scale rental services.
The new website has a detailed organizational structure along the left hand side of the page and across the top, making it easy to find items or information. The new website also includes a standard site search function and an advanced search function for improved customer service. Customers can easily search based on product types or popular industries. Social media and product videos are also prominently featured.
The website also includes updated background and historical information. Central Carolina Scale is located in the small community of Sanford, North Carolina which is about thirty minutes south of the state capital of Raleigh, North Carolina. This area is often considered one of the best areas in the country to live and work. The company headquarters are just a few hours away from the beach or the mountains, universities and hospitals, and many successful businesses.
The new website also provides increased detailed information regarding the service department and its many functions. The company's factory trained scale technicians are certified each year by the State of North Carolina. The company utilizes a service fleet of six small trucks and three heavy duty test trucks to provide weight for the large truck scales. Central Carolina Scale typically stocks replacement parts for increased customer satisfaction and reduced down time. When a scale fails customers need to have the parts in stock for fast repairs and limited down time. Central Carolina Scale keeps various boards, digital weight indicators, floor scales, displays, and load cells in stock. The company also keeps a large inventory of rental scales to meet quarterly or annual inventory requirements for businesses.
Central Carolina Scale, Inc was founded in 1980 and is celebrating thirty-five years of business in 2015. Central Carolina Scale employees have over 90 years of combined experience in weighing equipment sales and service. The company is an independent scale company which allows the company to decide what item(s) are best suited for a particular customer.