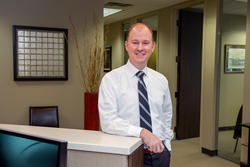 Greg Davis has been a tremendous resource for the firm and our clients.
Memphis, Tennessee (PRWEB) January 17, 2017
By expanding the firm's ownership group, Century Wealth Management is positioning itself for long-term growth and continuity. Greg Davis joined the firm in 2013 and has been responsible for managing client portfolios, assisting clients with investment strategy, tax planning, and financial planning services.
"Greg has been a tremendous resource for the firm and our clients," says Jay Healy, Century Wealth Management's President and founder. "His background in tax and accounting and his passion for investments make him a perfect fit for the sophisticated work we do as a financial advisor in Memphis. Growth at the firm has accelerated and broadening ownership sets the stage for continued expansion as well as a long-term succession plan that will protect and serve our clients for many years."
Greg Davis is a graduate of Christian Brothers University where he earned his undergraduate degree in Business Administration and majored in Finance. He has obtained both the CPA (Certified Public Accountant) and CFP ® (Certified Financial Planner) designations. He is an active member of several professional organizations. He is the current President of the Memphis Chapter of the Tennessee Society of Certified Public Accountants (TSCPA), a member of the American Institute of Certified Public Accountants (AICPA) and the Financial Planning Association (FPA). "When I joined Century and saw the high level of client service and the sophisticated solutions they deliver to their family office clients, it was clear to me that this was where I wanted to spend the rest of my career," says Greg Davis. "Becoming a partner validates my commitment to the firm and our clients."
About Century Wealth Management
Century Wealth Management LLC is a Registered Investment Adviser located in Memphis, TN, providing comprehensive, integrated investment advice to families since 2000. Century specializes in working with entrepreneurs and professionals looking for a single-source solution to managing their family wealth. The firm has been recognized as an industry leader in multiple publications including, Wealth Manager, Financial Advisor, and Worth. Jay Healy has been featured in the Wall Street Journal, Investment News and has been a recipient of Five Star Professional award as published in Memphis Magazine for six consecutive years. Our mission is to inspire and empower our clients to live their ideals.