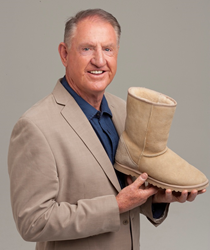 Brian is the perfect combination of 1 part brand zealot, 1 part iconic entrepreneur and 1 part cultural evangelist. Everyone doubted the viability of UGG Australia in its infancy, it was Brian who birthed a giant. - Evan Morgenstein
New York, New York (PRWEB) March 24, 2016
Episode 3 of CEO Powercast, a business podcast built to empower entrepreneurs, is available now via http://www.ceopowercast.podbean.com. The latest episode in the new podcast series features an exclusive interview with UGG Australia Founder and Motivational Speaker Brian Smith and covers topics such as building a personal brand in LinkedIn, the concept of "businessman overload", and the crux of an hourly charge.
Brian Smith, an Australian native and chartered accountant who studied at the UCLA Graduate School of Management, founded UGG Australia to bring sheepskin footwear to America with only $500 in start-up money. During episode 3, Brian talks about how a celebrity contributed to a 1600% sales growth in one season, why UGG would have been thrown off Shark Tank and his book, The Birth of a Brand.
"Brian is the perfect combination of 1 part brand zealot, 1 part iconic entrepreneur and 1 part cultural evangelist," said Morgenstein. "Everyone doubted the viability of UGG Australia in its infancy, it was Brian who birthed a giant."
In addition to the interview, Evan and Charlie cover a variety of topics that can help the everyday entrepreneur with time management, clear-headed decision-making and creating substantial brand exposure online. How should entrepreneurs value their time? When is the right time to end the back and forth and accept a deal? What are the best ways to build a personal brand on LinkedIn and what are the advantages? Answers to these questions and more can be found during this week's segment of CEO Powercast.
Episode 3 of the CEO Powercast podcast with Evan Morgenstein, Charlie Fusco and special guest Brian Smith is available now at http://www.ceopowercast.podbean.com. Each podcast episode is also available via iTunes and LinkedIn.
About CelebExperts
CelebExperts is a leading consulting firm dedicated to demystifying the celebrity acquisition process and finding creative solutions to effectively market your brand, leveraging the power of a celebrity. For more information on how your brand could utilize a celebrity talent as a spokesperson for upcoming marketing campaigns, please contact our team at consulting(at)celebexperts(dot)com or give us a call at (919) 459-5426.
About Synergixx
Synergixx, LLC is a creative think tank leading the way in merging traditional and online direct to consumer health and lifestyle product and service marketing strategies on TV, radio, print and online. The firm handles all media buying internally, and has an in-house, 24-7 sales and customer service call center for immediate fulfillment when clients' products or services are advertised. For more information, visit http://www.synergixx.com or call 1-800-610-1771.