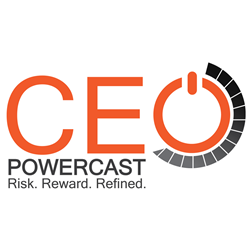 'New packaging for a product widely considered an affordable juice alternative when the market is exploding with low-calorie, infused water like Core Power isn't going to cut it!' - Evan Morgenstein
New York, New York (PRWEB) May 12, 2016
CEO Powercast Episode 7 is the latest episode in a series of business podcasts aimed at growing the entrepreneurial community through idea-sharing and insightful interviews with top CEO's in a variety of industries. Episode 7 features an exclusive interview with BLO/OUT Blow Dry Bar Founder Avi Shenkar and a discussion about a leading consumer beverage company that has adopted a new strategy to appeal to the larger market segment.
 
Avi Shenkar is the founder of one of the fastest growing blow dry bar franchises in the United States. During this week's interview, Avi gives listeners his inside secrets to real customer service, generating sales and attracting new customers. His unique marketing strategies include company displays on the ceiling at all of his locations and free, branded umbrellas to help his customers battle the elements on rainy days.
"Avi has found a way to expertly market his brand while simultaneously connecting with current and potential customers on a personal level," said Fusco. "He makes life easier for them, and that is truly invaluable in today's marketplace."
Later in the episode, Evan and Charlie break down Orangina's latest rebranding efforts and how it compares to the core consumer beverage strategy.
Morgenstein explained, "New packaging for a product widely considered an affordable juice alternative when the market is exploding with low-calorie, infused water like Core Power isn't going to cut it!"
 
Listen to Episode 7 of CEO Powercast now available at http://www.ceopowercast.podbean.com or subscribe to the podcast on iTunes to automatically receive new episodes to your phone, tablet or PC.
About CelebExperts
CelebExperts is a leading consulting firm dedicated to demystifying the celebrity acquisition process and finding creative solutions to effectively market your brand, leveraging the power of a celebrity. For more information on how your brand could utilize a celebrity talent as a spokesperson for upcoming marketing campaigns, please contact our team at consulting(at)celebexperts(dot)com or give us a call at (919) 459-5426.
About Synergixx
Synergixx, LLC is a creative think tank leading the way in merging traditional and online direct to consumer health and lifestyle product and service marketing strategies on TV, radio, print and online. The firm handles all media buying internally, and has an in-house, 24-7 sales and customer service call center for immediate fulfillment when clients' products or services are advertised. For more information, visit http://www.synergixx.com or call 1-800-610-1771.