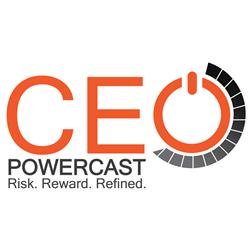 In one regard it's the greatest opportunity that ever existed and in the other it should scare the crap out of you because you're building their business, you're not building your business. - Evan Morgenstein
New York, New York (PRWEB) June 01, 2016
Today's fast-paced retail atmosphere is built for businesses and entrepreneurs who are willing to quickly adapt and re-invent the wheel to connect with consumers. CEO Powercast Episode 9, available now, takes a closer look at the impact of behemoth selling powers like Amazon who will inevitably attract a certain percentage of consumers and how mid-level marketers can sell their products in such a competitive environment.
Is retail dying? Can small businesses compete with Amazon? How can you create a sensational shopping experience for consumers? Co-hosts Charlie Fusco and Evan Morgenstein spend time on this week's episode sharing their own unique perspectives on creativity in today's retail atmosphere.
When discussing the impact of Amazon, Morgenstein commented, "In one regard it's the greatest opportunity that ever existed and in the other it should scare the crap out of you because you're building their business, you're not building your business. You don't walk away with a database so you really don't have a customer."
Consumer data such as purchasing patterns and tracking is at a premium nowadays for any business looking to grow their revenue stream. While e-commerce sites like Amazon can help build a customer base, businesses must develop their own strategy for tracking and utilizing consumer data to generate repeat business.
"What we're doing at Synergixx is helping our clients get in touch with their customers even in the smallest ways," said Fusco. "If we can orchestrate that a minimum of 30% of your audience interacts directly through your website or phone room on any specific activation, you've now grown your database by 30% and can begin to build a direct relationship with them."
The duo also unpack the significance of utilizing a celebrity or social media influencer as a spokesperson to front traditional and social media marketing campaigns. Both co-hosts agreed a celebrity influencer can help grow a community and increase brand awareness which makes it easier to sell and resell product. However, every business has to find alternative ways to create a direct emotional connection and leverage different assets to elicit a positive response.
Listen to Episode 9 of CEO Powercast now available at http://www.ceopowercast.podbean.com or subscribe to the podcast on iTunes to automatically receive new episodes to your phone, tablet or PC.
About CelebExperts
CelebExperts is a leading consulting firm dedicated to demystifying the celebrity acquisition process and finding creative solutions to effectively market your brand, leveraging the power of a celebrity. For more information on how your brand could utilize a celebrity talent as a spokesperson for upcoming marketing campaigns, please contact our team at consulting(at)celebexperts(dot)com or give us a call at (919) 459-5426.
About Synergixx
Synergixx, LLC is a creative think tank leading the way in merging traditional and online direct to consumer health and lifestyle product and service marketing strategies on TV, radio, print and online. The firm handles all media buying internally, and has an in-house, 24-7 sales and customer service call center for immediate fulfillment when clients' products or services are advertised. For more information, visit http://www.synergixx.com.