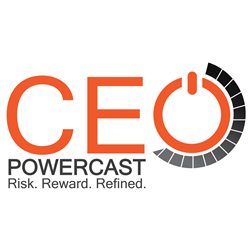 Being part of conversations that I feel maybe I'm not the expert in, that's how I get bigger and stronger mentally. You should be doing something as a CEO, especially as a business person, every day. Every day you should learn something. - Charlie Fusco
New York, New York (PRWEB) May 18, 2016
CEO Powercast Episode 8 is now available via iTunes and http://www.ceopowercast.podbean.com. In this week's episode, co-hosts Evan Morgenstein and Charlie Fusco address the dangers and repercussions of cyber-attacks in addition to sharing their own thoughts on ways every entrepreneur can sharpen and expand their skill set on a daily basis.
According to a recent report by cyber security firm Symantec, 43% of all cyber-attacks worldwide last year were against small businesses with less than 250 workers. The truth is, small businesses often neglect the importance of cyber security and make a much easier target for hackers as opposed to big, blue chip companies who continually strengthen their cyber firewalls.
In Episode 8, Co-hosts Evan and Charlie unpack the data and highlight the importance of small businesses making cyber security a priority. Charlie shares her own experiences with the horrors of cyber crime and the duo also touch on the growing marketing potential for cyber security companies competing to protect businesses large and small.
Morgenstein said, "I was shocked to learn about the massive exposure small businesses have to cyber terrorism. If you aren't including some consideration to defending your business you just might be a victim yourself!"
Morgenstein and Fusco also engage in a valuable conversation discussing the many resources and self-help tools available for growing CEO's and entrepreneurs. Both agreed a good business person can't be their own focus group.
"Being part of conversations that I feel maybe I'm not the expert in, that's how I get bigger and stronger mentally," explained Fusco. "You should be doing something as a CEO, especially as a business person, every day. Every day you should learn something."
Charlie and Evan are looking for several emerging businesses who would be interested in discussing their business on-air. Email Producer John-Michael Esposito for more info at jm@ceopowercast.com.
About CelebExperts
CelebExperts is a leading consulting firm dedicated to demystifying the celebrity acquisition process and finding creative solutions to effectively market your brand, leveraging the power of a celebrity. For more information on how your brand could utilize a celebrity talent as a spokesperson for upcoming marketing campaigns, please contact our team at consulting(at)celebexperts(dot)com or give us a call at (919) 459-5426.
About Synergixx
Synergixx, LLC is a creative think tank leading the way in merging traditional and online direct to consumer health and lifestyle product and service marketing strategies on TV, radio, print and online. The firm handles all media buying internally, and has an in-house, 24-7 sales and customer service call center for immediate fulfillment when clients' products or services are advertised. For more information, visit http://www.synergixx.com.