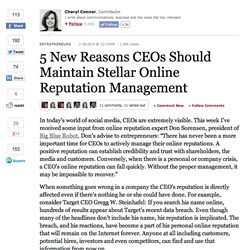 CEOs are vulnerable. Protecting their good name online is especially important when something negative happens to them or to the companies they lead
Salt Lake City, Utah (PRWEB) January 30, 2014
Online reputation management expert Don Sorensen was recently featured in the Forbes.com blog post titled,"5 New Reasons CEOs Should Maintain Stellar Online Reputation Management" (Forbes.com, January 18, 2014). He warns that a CEO's name can be damaged online when a crisis hits, even if the news wasn't their fault and couldn't be prevented.
"CEOs are vulnerable. Protecting their good name online is especially important when something negative happens to them or to the companies they lead," said Sorensen, President of Big Blue Robot. "The negative news may have happened recently or a long time ago, but it can stay in search results and affect many aspect of business for years."
In the article he outlines five ways customers, potential hires, investors and even competitors can potentially use information they find about a person or company online.
For example, do a search for Target CEO's name and news about a data breach at the retailer will show up. His professional reputation is now tied to theirs. Sorensen commented that when there is a personal or company crisis, a CEO's online reputation can fall quickly and recover slowly.
Sorensen advises CEOs to be more visible online before a crisis hits. The last thing a CEO should do is to do nothing to track or build a positive reputation online. "Some CEOs think it's better to stay out of the search engines altogether, but that's a mistake that just leaves you vulnerable. A single negative story, without proactive attention or management, could damage your personal and professional reputation for years to come."
In the article, Sorensen cites examples of CEOs who have strong online reputations and some who have damaged reputations. He also recommends free tools and ways CEOs can start strengthening their reputation online.
About Big Blue Robot
Big Blue Robot was founded in 2003 by Don Sorenson, a recognized authority on online reputation management. Sorenson's expertise and insights have appeared in publications such as the New York Times, USA Today, Forbes, and CNN Money. Through his company, Big Blue Robot, he works with corporations and CEOs to improve, protect, repair and manage their online reputations. Big Blue Robot has developed state-of-the-art online reputation management strategies for companies doing business around the world, in countries including the USA, Germany, Canada, New Zealand, United Kingdom, United Arab Emirates, and France. During the past ten years, Big Blue Robot has helped numerous companies fix their online reputation problems.
More information at http://www.BigBlueRobot.com.