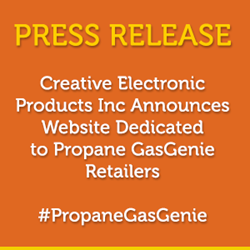 I started to grill a few nights ago I suddenly heard this unusual tune. It turned out to be the Propane GasGenie playing its alarm tune and flashing its LEDs. It really works!' (Lee Shafer, ASSOCIATED PRODUCTS)
LA, California (PRWEB) February 28, 2014
The Propane GasGenie claims to be the only BBQ propane gauge that actively warns the user in time to finish grilling. It uses a patented method of detecting small temperature changes in the tank wall to detect when the liquid level in the tank is getting low. It then starts to play a tune and flash It LEDs. The small unit is battery operated and requires no installation, simply clicking magnetically to the tank wall.
A year ago the Propane GasGenie was launched on Amazon and sales have been growing well. The reviews have also been good, so CEP started to move out into the resellers market. One early reseller wrote:
"So I got a sample and thought I would test it out first on my own BBQ grill. That was a few months ago and I had forgotten all about it. But when I started to grill a few nights ago I suddenly heard this unusual tune. It turned out to be the Propane GasGenie playing its alarm tune and flashing its LEDs. It really works!" (Lee Shafer, ASSOCIATED PRODUCTS)
As the retail business has grown, CEP has been supporting buyers with information, posters and tips for how best to present the product to their customers. The latest idea being a removable sticky label for the propane tank that has the retailer's details and 'Never run out of propane again' printed on it: A clever marketing aid especially for those frustrating moments when the gas runs out in the middle of grilling.
The new retailers information site will be on the Creative Electronic Products web page. It concentrates all the information a new or existing retailer needs in one place. Included are all the instructions, Tips and Hints, posters and other downloads as well as high resolution pictures of the product. Also on the site is a simple enquiry form for prices and deliveries etc.
Peter Frank, CEO of Creative Electronic Products says 'We will keep updating this site with new information and ideas that will help our retailers succeed with the product. The intention is to make the site a useful resource for all our retailers, old and new'.
About Creative Electronic Products Inc
Creative Electronic Products Inc searches worldwide for products that are currently not available in the USA. After finding a possible contender it carries out due diligence by investigating the manufacturing Company. It then tests the product thoroughly before approaching the manufacturer to discuss an arrangement for the USA. For more information, visit http://www.cepinc.biz.