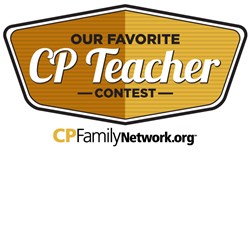 They could win an awesome technology gift package including an iPad2, Apple TV and $100 iTunes gift card!
Austin, TX (PRWEB) November 12, 2013
Want to say "thanks" to your child's favorite teacher this fall? Parents of children with cerebral palsy can nominate their favorite teacher in the Cerebral Palsy Family Network's "Our Favorite CP Teacher" contest for a chance to win a gift package of technology and apps including an iPad and Apple TV, the Network has announced.
The contest is underway and the winner will be announced in December.
"Special education teachers and therapists have some of the toughest jobs in the country. Assistive technology devices and apps can make those jobs easier by helping connect with students with physical and learning disabilities. For example, students with cerebral palsy may not be able to write, but they can select letters or pictures on the iPad to communicate their thoughts or learn new concepts," said Lee Vander Loop, CPFN editor.
"iPads are becoming more and more useful in the classroom, especially for those with disabilities. These technology gift packages will really expand the teaching horizons of the lucky winners," she added.
To enter the "Our Favorite CP Teacher" contest, parents can nominate a favorite teacher or therapist on the CPFN contest page. Entries should include a photo of the teacher and a short description of what makes that teacher great. Even those that don't have a teacher to nominate can still vote on entries, Vander Loop explained.
The contest is open until Nov. 26, and the winners will be announced at the beginning of December, she added.
The Cerebral Palsy Family Network has the largest Facebook presence on the Web of all organizations that deal with cerebral palsy, Vander Loop noted. "We've grown because we give parents in the cerebral palsy community what they need – information and resources to better their lives and the lives of their children," she said.
Among the resources it offers are the Cerebral Palsy Survival Guide, a free searchable database of resources available to CP families in each state and Washington, D.C., and the Care Guide: Medical and Emergency Records, which helps parents organize, update and share information about their child.
The Cerebral Palsy Family Network is a 501-C3 non-profit organization whose mission is to provide medical and legal resources to families and children with cerebral palsy.