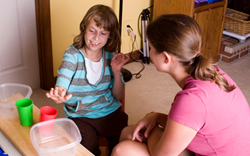 One can help even in the smallest way by sharing this information on Facebook, Twitter or other social media websites.
(PRWEB) March 01, 2014
March is National Cerebral Palsy Awareness month, and organizations all around the country are gearing up to boost knowledge about this condition by holding marathons, social activities and talks to educate members of the public. Cerebral palsy is a developmental disorder affecting an individual's mobility. Despite the fact that it's a non-progressive condition, it can severely limit a person's quality of life and may require lifelong rehabilitation.
The United States Senate (112th Congress) has designated March 25 as National Cerebral Palsy Awareness Day. The entire month of March has now been designated as National Cerebral Palsy Awareness Month. During the month of March, everyone across the United States is encouraged to become more informed and better-aware of cerebral palsy.
About 1 in every 300 children is affected by cerebral palsy. What's troubling is the fact that many instances of cerebral palsy are preventable. Most cerebral palsy cases happen due to medical malpractice during pregnancy or childbirth. For instance, if an unborn baby is deprived of oxygen during birth, parts of the brain may permanently die, causing cerebral palsy (CP). Sometimes CP can be caused by a lack of proper prenatal care which leads to congenital infection, affecting the baby's brain while it's still in the mother's womb.
What can people do to help this year?
The number one goal of this month is to increase overall awareness of cerebral palsy. With increased awareness comes an increase in social understanding, better funding, and further research. One can help even in the smallest way by sharing this information on Facebook, Twitter or other social media websites. Armed with information about cerebral palsy, citizens can demand better care from their community hospitals and physicians. A city can actually come up with a standard of care which must be followed by all physicians handling deliveries, as well as nurses responsible in ensuring that a pregnancy is carried to full term without any infection or other health issues.
Children born with cerebral palsy may never fully recover some of the motor or cognitive skills that many of us take for granted. For example, something as easy as climbing up a flight of stairs may be an enormous challenge for someone with cerebral palsy. Speech can often be very difficult for some cerebral palsy sufferers and because of this, they need extensive physical and cognitive therapy.
If not personally affected by cerebral palsy, the attorneys at Rasansky Law Firm recommend that this time be used to continue reading up on the subject. There are many resources available online, and there are many different ways in which one can help spread awareness in their community or social circles.
Rasansky Law Firm
Medical Malpractice Lawyers
http://www.jrlawfirm.com/
1-877-405-4313