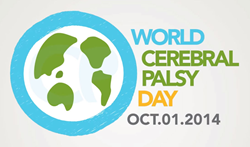 World CP Day is a global innovation project to change the world for people living with cerebral palsy and their families.
(PRWEB) October 01, 2014
World Cerebral Palsy Day is celebrated every year on October 1st. The event was established to bring about awareness when it comes to cerebral palsy and the special considerations individuals living with this condition need in order to live a life of dignity, mobility and independence.
This year, the United Cerebral Palsy Fund (in conjunction with a selection of global partners) has come up with an initiative to foster creativity while at the same time helping individuals with cerebral palsy.
The initiative, a competition titled "Change My World in 1 Minute" has people all across the globe submitting ideas for items which may help boost the quality of life of people living with cerebral palsy.
Last year, students from the University of Virginia won the top prize by designing and making a solar-powered wheelchair. The originator of the idea was a Turkish man who had the wheelchair shipped over to him when it was ready. The students also shared in a $50,000 bounty as compensation for their hard work and innovation.
In November and December, a judging panel made up of people from different nationalities (as well as individuals with cerebral palsy) choose the best ideas which are then shortlisted.
Between January and June, creators, inventors and researchers are invited to create design prototypes for the ideas which made it to the shortlist. Winners are then announced in July after which the next year's campaign opens up once more.
This year's designs include the following:

Don't Spill a Drop: Inventors are required to create a completely spill-proof cup.
Designer Walker: Inventors create a fashionable yet functioning mobility walker aimed at teens.
Design4CP: This is a global initiative to provide products and services for people living with cerebral palsy.
For more information about cerebral palsy, or to find additional information to share with friends and family on World Cerebral Palsy Day, visit http://www.cerebral-palsy-information.com/