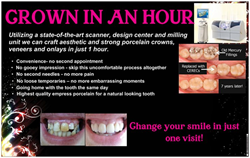 Maspeth, NY (PRWEB) March 31, 2014
Dr. Alexandra Khaimov, a dentist in Maspeth, is well-known in her local community as the dentist that does more than dentistry. Her social betterment activities to better lives in her neighborhood have been featured on ABC news, Daily News etc.
Her patients have also loved her for her dedication in providing top quality dental services that frequently end up saving them time and money.
She recently acquired a CEREC machine to offer more affordable convenient treatment for patients needing dental crowns.
In the past, patients in need of crowns could not walk into a dental practice and have their teeth fitted with nice-looking crowns in a single visit. Issuing dental crowns meant taking multiple visits to the dentists, and temporary crowns, which could easily come off, created an embarrassing situation for many patients.
It is now possible to get crowns in just one dental visit thanks to the CEREC technology. CEREC is an acronym for Chairside Economical Restorations of Esthetic Ceramic, or put more simply, CEramic REConstruction.
CEREC acts as a restoration tool that allows a dentist to place dental crowns, restore teeth that are decayed, place porcelain veneers or remove faulty amalgam dental fillings in just one appointment. In addition, the fillings or restorations are made of tooth-colored ceramic, giving them a natural look.
"A patient can save a lot of time and money since the CEREC crowns can be obtained within just one visit and the materials used will last longer." she said about the same-day dental crowns.
Patients do not have to worry about wearing temporary crowns. The pure ceramic crowns are also very durable, so patients save on any repair costs they might have otherwise had to spend on crowns made from other materials.
The CEREC procedure is popular among Dr. Khaimov's patients because it requires less time, less drilling and few injections.
First, the Maspeth dentist examines the patients' teeth and preps them, which may include removing tooth decay. Next, she takes an optical impression of the prepared tooth. Finally, she uses the CEREC machine to design and create the dental crown, veneers or tooth filling right in her office.
It is worth noting that dentists do not all use the CEREC technology yet, but its growing popularity is undeniable. Even so, patients should be careful to work with a dentist that delivers high quality restorations using this technology to guarantee long lasting results.
Dr. Khaimov sees patients from New York cities such as Maspeth, Woodside, Middle Village, Ridgewood, Brooklyn, Sunnyside and the surrounding communities.
"Prevention is not only better than cure. It is cheaper too!" Dr. Khaimov smiled.
She will also be organizing a Food Drive during April Donate Life Month.
To encourage more residents to take care of their dental health regularly, Dr. Khaimov is giving a dental cleaning special. The dental coupon can be obtained from http://dentistmaspethny.com.