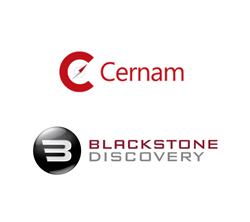 Cernam's technology and capabilities are the perfect complement to BlackStone Discovery's customizable Rapid Response Methodology.
Palo Alto, California (PRWEB) January 22, 2015
BlackStone Discovery, a leading provider of managed e-discovery services for Am Law 100 firms and Fortune 500 corporations, has developed a strategic partnership with Cernam, a digital investigations firm specializing in the collection, preservation and analysis of online evidence. The partnership allows BlackStone Discovery to provide its clients with an enhanced capability to deal with all aspects of e-discovery and forensic analysis particularly when addressing the challenges of evidence identification, evidence preservation, and custom evidence collection of Microsoft's Office 365 email platform, and the unsanctioned use of cloud services for enterprise content storage and collaboration.
"Cernam's technology provides a compelling capability to any organization dealing with e-discovery or investigations when Office 365 is involved. Nothing compares to Cernam's full suite of technology along with their extensive enterprise and cloud systems expertise, which allows our company to deliver on our core value of 'Keeping Our Clients In Control' - maximizing results and eliminating surprises," said John P. Kelly, President of BlackStone Discovery. "Cernam's technology and capabilities are the perfect complement to BlackStone Discovery's customizable Rapid Response Methodology. It gives our clients complete visibility over every step of the process, dramatically reducing risk while increasing cost certainty and the ability to drive legal strategy."
"We are excited to partner with Blackstone Discovery," said Patrick Roberts, Chief Technology Officer of Cernam. "BlackStone has seamlessly integrated Cernam's technology and expertise into their offerings providing their clients, particularly those using Office 365, with enhanced e-discovery support and forensic capabilities that effectively deal with the differences between Microsoft's on premise Exchange environment and their Office 365 cloud email service."
BlackStone Discovery is ahead of the technology curve by being the first e-discovery professional services group in the Silicon Valley to integrate Cernam's technology into its service offerings. Cernam's cloud email solution enables the high-integrity collection and preservation of cloud email data and documents relevant to litigation, government investigations and regulatory examinations in a remote manner, avoiding the need to deploy people or equipment onsite. Cernam's powerful technology is specifically tailored for Microsoft's Office 365 email platform, bringing a new level of forensic rigor to this uniquely rich source of evidence while enabling for the first time a true evidential collection including deleted emails, system data and other "hidden" evidence. BlackStone maintains its cost effective e-discovery services by leveraging this online platform, which can be accessed from anywhere, anytime - saving valuable internal data hosting space expenses and other critical resources.
In addition to addressing Office 365, BlackStone will also benefit from Cernam's broader cloud evidence know-how, including technology which can identify "creeping" cloud adoption on a corporate network. The use of un-approved cloud services, for example cloud storage and teamwork systems, is a key area of risk in e-discovery and investigations since corporate data stored outside of company approved locations represents a "digital blind-spot" which can lead to critical evidence being missed.
By leveraging the Cernam partnership, clients are no longer strapped with the burdens of facilitating and managing challenging cloud and enterprise e-discovery data collections, and can focus on other tasks while the BlackStone professionals manage the full lifecycle of associated activities and ultimately help our clients avoid digital evidence failures and to help them better manage digital records as evidence.
About Cernam
Cernam (http://www.cernam.com) is a specialized digital investigations firm focused on online evidence and investigations. Building on a background in information security, electronic discovery and corporate investigations, Cernam develops unique tools that bring forensic rigor to the collection, preservation and analysis of online evidence. Cernam is dedicated to providing products and services that solve the governance and evidential challenges posed by online content and complex enterprise systems.
About BlackStone Discovery
BlackStone Discovery is a leading provider of eDiscovery and litigation support services for Am Law 100 and Fortune 500 companies. BlackStone's service offerings span the entire EDRM including Enterprise Discovery Protocols (EDP), forensic imaging, investigations, Early Data Analysis (EDA), native file processing, technology assisted review, hosting solutions, and attorney document review and production. Leveraging industry leading technology and employing a quick start and adaptable approach known as The Rapid Response Methodology "RRM", BlackStone Discovery delivers the most cost effective and defensible data available. Additionally, BlackStone's team of trained and certified professionals provides every client with a high quality customer experience.
For additional information please call (650) 331-3000 or visit http://www.blackstonediscovery.com.