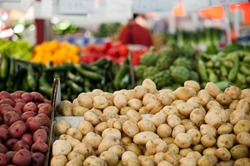 The Coachella Valley has long been the agricultural home not only for dates, but also some of the best citrus in the nation.
Palm Springs, CA (PRWEB) May 10, 2016
Brad Schmett, Broker Associate with Luxury Homes by Keller Williams today announced that the Certified Farmer's Market which runs in Old Town La Quinta from October through May is a welcome boost for the luxury home market as it draws in health focused buyers. Located on Main Street from 8am to 12:30pm on Sundays, the market has always been a major attraction for health minded Coachella Valley residents. There are several Certified Farmer's Markets across the Coachella Valley.
In the sundrenched California Desert, the outdoor lifestyle and attention to dietary and nutritional health make the Certified Farmer's Markets a major destination every week for thousands of residents in the Coachella Valley. The Market in Old Town La Quinta is distinguished by its proximity to the trendy boutiques located along Main Street and provides a perfect opportunity to make a day of dining and shopping in the charming ambiance of Old Town with the added convenience of picking up unusual and organic products.
Schmett recently commented, "The Coachella Valley has long been the agricultural home not only for dates, but also some of the best citrus in the nation. We are so fortunate here to have local produce available all year long, including grapefruit, oranges and strawberries as well as so much more. One of the primary motivations for many of my buyers to own a home here is the incredibly healthy lifestyle we lead in this valley. My clients are people who know how to live a full life and have chosen this area for that reason."
Certified Farmers Markets from Palm Springs to La Quinta are available every month of the year, although a few do close over the hotter summer months. Be sure to call ahead to be sure that your local farmers market is open for business between June and October. Markets feature live music, opportunities to taste and sample great new foods and products and a social time of greeting friends and neighbors in the community. All year long enjoy the best of the valley at these great open air markets.
For more information on Old Town La Quinta's Certified Farmer's Market visit http://certifiedfarmersmarket.org.
To find out more about investing in La Quinta, CA real estate visit http://laquintarealestateinfo.com.
About Luxury Homes by Keller Williams: Luxury Homes by Keller Williams – La Quinta, is an exclusive, elite and sophisticated group of real estate consultants raising the bar for service in the La Quinta and Palm Springs area residential real estate market.