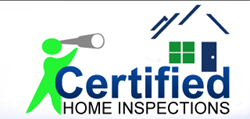 First time home buyers need to avoid critical mistakes advises Certified Home Inspections.
Long Island, New York (PRWEB) November 20, 2013
Certified Home Inspections, a home inspection service provider for Long Island, the five boroughs and Westchester, is pointing to three specific items in a Top 10 list of first time homebuyer mistakes from TLC.com to avoid as more critical than the rest.
While the advice that is found in the on-line feature is common to similar lists that are produced on a regular basis, the three that seem most important in terms of avoiding are not considering the home resale value, blindly listening to all that your realtor tells you and skipping the home inspection of any house being considered for purchase. In order of importance from least to most, not considering the resale value of a home that has not been purchased yet would seem odd but nothing is forever. The reality is that while a first home may be the source of fond future memories it is also a major investment and the possibility that it could be sold in lieu of purchasing a new house or a relocation should be considered when making the purchase.
In terms of blindly listening to all that your realtor tells you is simply a matter of trust but verify. While the greater majority of realtors are honest and reputable, as with other industries, there are always a few bad apples. The fact that a new home buyer has chosen a realtor does not end their responsibility to be educated and informed on all aspects of the major decision that is purchasing a home. Finally, while not hiring a certified home inspector is an option if the realtor can provide one or if the home seller can provide an inspection report but it does not mean the option should be taken. Potential home buyers, following the same trust but verify rule that comes into play with realtors, should invest in an independent certified home inspector of their choosing so that they can get an additional assessment before making the life altering decision that is the purchase of their first home.
Certified Home Inspections (http://www.certifiedhomeinspectionsny.com) offers complete home inspection services for Long Island, New York City's five boroughs and Westchester County. With over 50 years of combined industry experience, they service the residential sector with lasting results. Their professional team is highly knowledgeable in all components of the home; providing precise inspections for all homebuyers and sellers. Certified Home Inspections delivers detailed home inspection reports in as little as 48 hours. Each report is detailed, easy to read and features photos and a full description of services performed. Certified Home Inspections offers a full range of home inspection services, providing in depth inspections with guaranteed results. Additionally, Certified Home Inspections are laboratory certified to perform tests for Bio/Hazards such as mold, asbestos, air, lead and water quality. All home inspection reports are carefully crafted to ensure quality information.