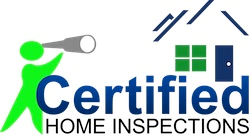 Certified Home Inspections advising potential home buyers to insist on damage assessments due to harsh winter.
Long Island, New York (PRWEB) January 27, 2014
Certified Home Inspections, the premier provider of home inspection service provider for Long Island, the five boroughs and Westchester, is advising potential home buyers contemplating purchases in the Spring of 2014 to insist on greater diligence from home inspectors to ensure that damage from the harsh winter is identified.
The winter has already blasted the Tri-state region at the very beginning of 2014 and with another polar blast less than three weeks later means that homes will be put under a great deal of stress. The stresses will be seen in cracked foundations, damaged roofs, compromised window and door frames and issues from pipes and other water-carrying equipment. Other issues that could come up with chimneys, electrical systems and basements are also possible. In some cases the damage is easily identified and can be corrected before residual damage can occur. But there are other ways a structure can be damaged due to rough, winter weather that may not be obvious and will not become known until months or years later when the secondary damage begins to occur.
High winds combined with precipitation can force moisture into small crevices and other seams where the continued presence of moisture can lead to rotting timber, deteriorating foundations and warping of roofing that will not become evident until the breaches created are compromised again and again. Perhaps a house had the pipes freeze at certain points during the winter. Large cracks will not go unnoticed bud smaller cracks can be missed by the most trained eye. As these cracks go untreated they become vulnerable points that could rupture and cause household flooding.
By engaging a skilled, certified home inspector, potential homeowners can avert unexpected and costly repairs months or years after making the important investment that is purchasing a home. Certified Home Inspection offers such skilled, expert eyes needed to identify the damage and issues that other inspectors might miss. With over 50 years of combined experience, the Certified Home Inspections have lived in the Metro-New York region their entire lives. They understand the challenges because they have lived them. Additionally, they are experts on waterfront home inspections, knowing exactly what specific types of damage that salt-water flooding can cause. It is with this diversity of knowledge and experience are what make Certified Home Inspections one of the top Home Inspection firms in the tri-state area.
Certified Home Inspections offers complete home inspection services for Long Island, New York City's five boroughs and Westchester County. With over 50 years of combined industry experience, they service the residential sector with lasting results. Their professional team is highly knowledgeable in all components of the home; providing precise inspections for all home-buyers and sellers. Certified Home Inspections delivers detailed home inspection reports in as little as 48 hours. Each report is detailed, easy to read and features photos and a full description of services performed. Certified Home Inspections offers a full range of home inspection services, providing in depth inspections with guaranteed results. Additionally, Certified Home Inspections are laboratory certified to perform tests for Bio/Hazards such as mold, asbestos, air, lead and water quality. All home inspection reports are carefully crafted to ensure quality information. Feel free to visit them online at http://www.certifiedhomeinspectionsny.com.