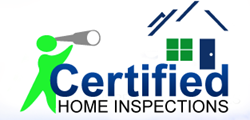 How You Choose Your Home Inspector Can Affect Your Sale Says Certified Home Inspections
Long Island, NY (PRWEB) November 07, 2013
Certified Home Inspections, a home inspection service provider for Long Island, the five boroughs and Westchester, stresses the importance of home sellers and buyers to perform due diligence in regards to ascertaining which home inspector is right for the job.
As the economy continues to struggle to regain full strength, the housing market is also suffering through uncertain times. As selling or purchasing a home is a major decision with far reaching financial implications for the interested party, ensuring that you have chosen the proper home inspector is a major decision. While there are many questions that can be asked, Certified Home Inspections suggests asking the following when considering a home inspector:
How long have they been in business and how many inspections have they performed? Depending on the Home Inspector association, members may be required to have completed a minimum number of paid professional home inspections as well as completing specific course study to become certified.
Are they certified for residential inspection? The answer should be yes. If the home inspector you are interviewing begins talking about how they are trained in construction or engineering but not in residential inspection, the interview should probably end right then and there.
Can you, the seller, be present during the inspection process? Not only is this an opportunity to educate yourself in regards to how things work around what could be your house, and the inspector may find things that don't quite merit a mention in the report but which you should be aware of. An inspector's refusal to allow you to be present should raise a red flag.
Finally, once you've found an inspector you like, ask for and follow up with the previous clients. When talking to the references ask two key questions—whether they discovered any major defects after the close of escrow that the inspector missed and whether they'd use or recommend the inspector again.
Certified Home Inspections offers complete home inspection services for Long Island, New York City's five boroughs and Westchester County. With over 50 years of combined industry experience, they service the residential sector with lasting results. Their professional team is highly knowledgeable in all components of the home; providing precise inspections for all home buyers and sellers. Certified Home Inspections delivers detailed home inspection reports in as little as 48 hours. Each report is detailed, easy to read and features photos and a full description of services performed. Certified Home Inspections offers a full range of home inspection services, providing in depth inspections with guaranteed results. Additionally, Certified Home Inspections are laboratory certified to perform tests for Bio/Hazards such as mold, asbestos, air, lead and water quality. All home inspection reports are carefully crafted to ensure quality information.