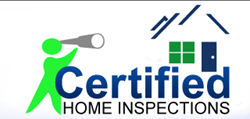 Certified Home Inspections Proudly Announces On-Line Report Access
Long Island, New York (PRWEB) August 21, 2013
Certified Home Inspections, a provider of complete home inspection services for Long Island, New York City's 5 boroughs and Westchester County, are pleased to announce that clients will now be able to access all reports pertaining to the residence they are potentially purchasing via the on-line client portal on their website, http://www.certifiedhomeinspectionsny.com
This new feature of their home inspection service will allow clients to access, download and print out all necessary reporting and recommendations, in complete detail, at any time. Each report will include a detailed account of each area inspected complete with any issues discovered, recommended resolutions and a cost estimate. This will enable their clients to understand fully what the situation is with the residence they are considering, making the next steps in the process of purchasing their next home that much easier. Additionally, as this is a free service and requires nothing more than the username and password they will be provided with their home inspection, accessing and downloading the reports is a simple process that can be performed at any time of the day or night.
According to a representative of the company, this additional feature of their overall service is being offered in recognition of the process entailed in buying a new home. As the home buying process can be stressful and sometimes confusing, the knowledge that the critical home inspection reports are readily accessible 24-hours a day affords peace of mind to the prospective home buyer. As this feature of Certified Home Inspection's service is offered at no charge along with termite inspection and HUD checklist, the return on investment for the home buyer is amplified that much more. The representative added that since owning a home is the American dream, we want to ensure that the process of buying a home does not turn into a nightmare.
Certified Home Inspections offers complete home inspection services for Long Island, New York City's five boroughs and Westchester County. With over 50 years of combined industry experience, they service the residential sector with lasting results. Their professional team is highly knowledgeable in all components of the home; providing precise inspections for all home buyers and sellers. Certified Home Inspections delivers detailed home inspection reports in as little as 48 hours. Each report is detailed, easy to read and features photos and a full description of services performed. Certified Home Inspections offers a full range of home inspection services, providing in depth inspections with guaranteed results. Additionally, Certified Home Inspections are laboratory certified to perform tests for Bio/Hazards such as mold, asbestos, air, lead and water quality. All home inspection reports are carefully crafted to ensure quality information.