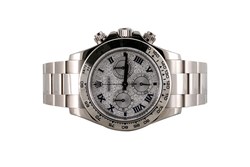 Los Angeles, California (PRWEB) October 31, 2013
Certified Timepieces, an online Cartier and Rolex watch retailer, has announced the launch of its brand new website that features some of the best watches in the world.
Boasting easy to use tabs, clear and concise categories, as well as numerous high definition images, Certified Timepieces' new website is quickly becoming known as one of the top watch retailing websites in the industry.
The launch of a new website was aimed to draw in more online shoppers. According to a spokesperson from Certified Timepieces, "The whole purpose of introducing a new website is so that our buyers will be able to experience a more pleasurable experience when shopping for the best watches in the world."
Aside from a new website, Certified Timepieces is also pleased to announce the top reasons why online shoppers prefer to shop with them as opposed to their competitors.
1. Authentic Pre Owned Luxury Watches
Certified Timepieces is pleased to inform shoppers that they specialize in selling genuine men's Rolex and Cartier luxury watches. Additionally, all timepieces sold through them are pre-used and very affordable. The lower than average price tags on these genuine timepieces have encouraged more shoppers to flock to Certified Timepieces for the watch of their dreams. Be it an authentic Rolex Datejust or a Rolex Presidential, Certified Timepieces has it all. Additionally, all luxury watches sold through Certified Timepieces are shipped with the original manufacturer's serial numbers still intact, proving its authenticity. Each Cartier and Rolex watch sold through the company is also authenticated by the in-house team of certified watch experts.
2. Comprehensive Warranty
At Certified Timepieces, all used Rolex watches and Cartier timepieces sold through the company come with a complete 1-year warranty. All irregular wear and tear, as well as overall functionality are covered by the comprehensive warranty. In the unlikely event that the watch stops working, all the buyer needs to do is to ship it back to Certified Timepieces and the company will gladly fix or exchange the timepiece at no extra cost.
3. Guaranteed Quality Assurance
Certified Timepieces is very confident with its inventory of luxury timepieces and guarantee only the best of the best. Be it the quality of the watches or the selection and variety afforded to the shopper, Certified Timepieces has everything covered to the highest of standards. Every Cartier and Rolex watch sold through Certified Timepieces is exactly as pictured and described on the website. Shoppers who frequent Certified Timepieces can attest to the fact that the company takes pride in everything that it does and takes genuine effort to make the customer happy.
One of the pre owned Rolex watches currently on sale is the Ladies' Rolex Pink Roman Dial Fluted Bezel 18K Yellow Gold President (SKU # 1532b)
Price: $8,650
Today Only: $8,218
This leaves the buyer a total savings of $433
For a complete list of all the pre owned Rolex and Cartier watches on sale, contact Certified Timepieces through their website. Not only will buyers be able to view and read about the best watches for sale, they will also be able to get great deals on other used Rolex watches such as the Rolex Datejust and the Rolex Presidential.