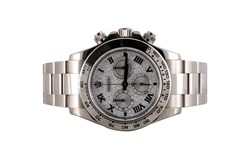 Los Angeles, California (PRWEB) October 25, 2013
Certified Timepieces is one of the leading online retailers that offer a large collection of some of the best watches in the world, one of which is the aforementioned timepiece from the Rolex Datejust collection.
Two of the most popular brands currently up for sale are Cartier and Rolex watches. Because of the current high demand for luxury watches, Rolex prices have been steadily increasing and the same can be said of Cartier timepieces. However, these high prices have deterred many shoppers from buying the watch of their dreams. This is why many online retailers like Certified Timepieces are quickly gaining popularity amongst the masses as they offer genuine luxury watches at affordable rates.
Certified Timepieces is proud to offer buyers some of the best watches in the world at affordable rates. From the popular Rolex Datejust and Rolex Presidential collections to numerous Cartier models, Certified Timepieces is the place to head to for genuine pre-owned watches without breaking the bank. Besides offering shoppers authentic Cartier and used Rolex watches, Certified Timepieces is also renown for the following two traits.
1. Comprehensive Warranty
The company is offering a comprehensive 1-year warranty on its entire inventory. No matter what type of timepiece the buyer chooses, he or she will also walk away fully protected by the warranty. This warranty covers not only irregular wear and tear, but should the watch stop working for any reason whatsoever, the buyer can easily return it to the company. Certified Timepieces will then either fix or exchange the timepiece for free. Many buyers never find the need to exercise this warranty as the quality of watches sold through Certified Timepieces are excellent and almost like new. Additionally, all used Rolex watches and Cartier timepieces sold through Certified Timepieces are authenticated by the company's team of in-house watch experts before being put on sale.
2. Return & Exchange Policy
Certified Timepieces is also pleased to inform buyers that they offer an excellent return and exchange policy on all their pre-owned Rolex watches and Cartier watches. Although these brands are known to be some of the best watches in the world, it is still important for the buyer to have the option of either returning or exchanging the watch. This is because shopping for a timepiece online is not the same thing as shopping for one at a conventional store. Online, the only things to guide the buyer are the product description and pictures. Certified Timepieces understands that it can be a challenge shopping for a pre-owned Rolex watch online and have decided to place a flexible return and exchange policy on its entire stock of timepieces. This gives many shoppers peace of mind when shopping with Certified Timepieces because they know that should the purchase they receive not look like what was described and pictured online, they can opt to return or exchange it.
One of the used Rolex watches on sale is the Men's Rolex Two-Tone Black Tapestry Stick Dial Fluted Bezel Oyster Band Datejust (SKU #1681). Priced at $7150, this pre-owned Rolex watch is in excellent condition. Based on the current market value of Rolex watches, this particular watch boasts an excellent and affordable price tag that will put other Rolex prices to shame.
Other pre-owned Rolex watches from the Rolex Datejust collection to Rolex Submariner are also available. For a complete list of all the used Rolex watches on sale, head to their website.