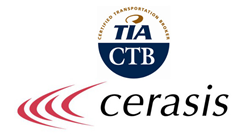 It is vital that all parties involved are confident they are dealing with a reputable logistics partner and freight broker.
Eagan, MN (PRWEB) April 08, 2014
Cerasis, Inc., a third party logistics company specializing in freight technology and managed transportation services focused on Less Than Truckload (LTL), small package, and full truckload transportation management, announces today that the company has earned the designation of Certified Transportation Broker after completing the Transportation Intermediaries Association (TIA) Certified Transportation Broker (CTB) Program.
Kate Hale, a longtime employee, and lead over the full truckload freight broker division of Cerasis, successfully passed the TIA's CTP Program exams after completing the program. This designation, along with the purchase of the $250,000 TIA Performance Certified Freight Broker Surety Bond, shows the commitment of Cerasis to their customers, employees, partners, and to all shippers and the freight and transportation industry at large.
"I work with large carriers, owner/operators, and our customers to procure transportation and manage the full truckload freight procurement process," said Kate Hale, Full Truckload Freight Broker Team Lead. "It is vital that all parties involved are confident they are dealing with a reputable logistics partner and freight broker."
The implementation of the Moving Ahead for Progress in the 21st Century Act or Map-21 on October 1, 2013 saw a rise of the Freight Broker Surety Bond from $10,000 to $75,000 as an effort by the Department of Transportation and the federal government to decrease the amount of fraud in the freight industry.
The Transportation Intermediaries Association echoes the sentiment of the federal government and the industry at large to increase the reputation of reputable third party logistics companies and freight brokers. The Certified Transportation Broker (CTB) Program was developed by the TIA in 1986 to significantly increase the professionalism and integrity of property brokers. The CTB program tests the knowledge of participants on brokerage, ethics, contracts, pricing, legal and regulatory requirements, as well as the latest trends in transportation and business management.
Participants must earn at least five candidate points, which are based on professional experience and education, to be eligible to take the examination. The participants must also have at least one year of experience working as a broker. Candidates may earn additional CTB eligibility points if they have completed formal education such as being granted a Bachelor's or a Master's degree.
TIA, in addition to sponsoring the examination, also offers an online CTB Home Study Course that lasts for a period of up to 17 weeks. The course, which entails rigorous study, helps to prepare those individuals who are seeking CTB certification to prepare for the examination. More than 1,750 participants have earned the much sought after CTB designation.
Cerasis' core values are centered on continuous improvement and having an innovative and open minded culture. These designations in the freight broker space are but one part of the ongoing effort of the company to educate and advocate shippers of freight in North America. Along with the company's best practices, industry news, and trends freight management blog, the company continually trains employees through ongoing educational webinars and increases the culture by implementing the FISH! Philosophy program, made popular by showcasing the Pike Place Fish Market in Seattle.
"Our shippers, their suppliers, and our employees are our number one priority," said VP of Business Development, Steve Norall. "It is our duty to provide them and the industry the highest levels of integrity and service. With this CTB program designation, Cerasis continues its long history of doing right by our shipper customers."
About Cerasis:
Founded in 1997, Cerasis is a top third party logistics company and truckload freight broker offering a powerful web-based transportation management system, the Cerasis Rater and managed transportation services to include freight claims management, carrier relationship management, freight auditing and payment, and dedicated customer service representatives for every shipper.