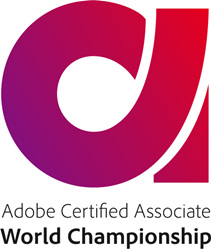 SALT LAKE CITY (PRWEB) November 05, 2019
The 2020 Adobe Certified Associate (ACA) World Championship has been launched by Certiport, the leading provider of performance-based IT certification exams that accelerate academic and career opportunities for learners. In its 8th year, the competition is expected to attract more than 130,000 contestants from 65 countries to prove their superior digital communication skills using Adobe Photoshop, Illustrator and InDesign.
The 2020 ACA World Championship will be held at the Grand Californian hotel in Anaheim, CA from August 2-5, 2020. To enter the competition, students age 13 to 22 must take a qualifying ACA certification exam. Regional competitions will be held worldwide to determine who makes the final round to create a unique design piece for a non-profit client.
"The best part of the ACA World Championship is seeing creativity meet job-ready skills," said Ray Murray, Vice President and General Manager – IT, Pearson VUE. "These young people who earn ACA certification are already winners, as they have a certificate that validates their Adobe skills – the most in-demand design tool in the market. Competing in the ACA World Championship is just the icing on the cake and it is fun to see what they design in our final competition."
A first ($7,000), second ($3,500) and third ($1,500) place ACA World Champion will be chosen based on a panel of judges reviewing the final design projects for a non-profit client.
"The ACA World Championship is a terrific opportunity for young creators to showcase their skill and talent on a global stage.," said Tacy Trowbridge, Global Education Programs Lead at Adobe. "When students earn certification, they gain the confidence they need to continue to progress and demonstrate their creativity through digital design."
The 2019 ACA World Championship welcomed 50 students from 27 countries; watch the News Round-Up video to relive the excitement.
About Certiport
Certiport is the leading provider of learning curriculum, practice tests, and performance-based IT certification exams that accelerate academic and career opportunities for learners. Certiport provides certification development, delivery, and program management services through an expansive network of more than 12,000 Certiport Authorized Testing Centers worldwide. More than 3 million Certiport exams are delivered in 26 languages across 148 countries each year throughout the academic, workforce, and corporate technology markets. Certiport is a Pearson VUE business, and is a part of the world's leading learning company, Pearson. To learn more, go to http://www.certiport.com.
"Certiport" is a registered trademark of NCS Pearson, Inc. in the United States and other countries. The names of actual companies and products mentioned herein may be the trademarks of their respective owners.