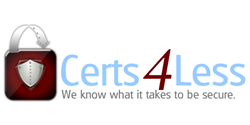 Extended Validation Code Signing Certificates provide greater security with the added benefit of immediate reputation.
Chatsworth, California (PRWEB) December 12, 2014
Certs 4 Less is proud to announce that they have expanded their line-up of Code Signing Certificates to secure applications with. Certs 4 Less now offers EV Code Signing Certificates from Symantec. These new EV Code Signing Certificates allow for instant reputation status in Microsoft's SmartScreen Filter. In addition to the instant reputation, the certificate signing process is more secure as it is combined with an encrypted token containing the private key.
The major benefit to EV Code Signing is that the certificate token is stored on an external USB device. This prevents the potential unauthorized signing of one's code because a person must physically have the device in order to sign the code with the certificate. The certificate does not remain on the machine and it is not exportable.
In additional to the physical security of the encrypted token used for signing. The signed code also gains the immediate reputation by Microsoft's SmartScreen filter used in Windows 8 and 8.1 as well as Internet Explorer 9, 10 and 11. This means a brand new publisher as well as a new program with no reputation will immediately be trusted and gain reputation.
Just like standard code signing certificate, EV Code Signing Certificates allow developers to digitally sign the applications and software they sale. The difference using EV are stronger levels of assurance and key protection adhering to the strict guidelines set forth by the CA/Browser Forum and Microsoft Corporation.
With a Symantec EV Code Signing Certificate users can have more confidence when downloading applications from developers who have taken advantage of Symantec's EV Code Signing Certificates. When users download the application they can feel safe, knowing that they are downloading an application from a developer that is trusted by Symantec, the world's leading Certificate Authority.
For more information on EV Code Signing Certificate please visit the link below :
https://www.certs4less.com/ev-code-signing.html
About 4 Less Communications, Inc.
In business since 1998, 4 Less Communications, Inc. offers Website and Ecommerce Hosting, Online Back-up, SSL Certificates, Code Signing, and Dial-up Internet Access through their related companies. 4 Less Communications, Inc. is founded on the concept of offering the best Internet technologies with less stress, less confusion and for less money. 4 Less Communications, Inc. maintains its own data center and is proudly operated entirely in the United States.
Contact Information:
Dan Holtzman
Certs 4 Less
http://www.certs4less.com
888-818-0444