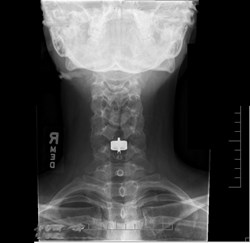 'A cervical fusion is a serious operation that can have major consequences for individuals injured in an accident.' - Edward A. Smith
Sacramento, California (PRWEB) August 22, 2013
Aiding consumers obtain simple and concise legal and medical knowledge is a passion for many consumer advocates. It is with this goal that the Law Offices of Edward Smith has crafted and launched a brand new website, http://www.CervicalFusionAttorney.com, aimed at helping consumers clearly understand not only their legal issues but also describing complicated medical procedures and terminology in easy to understand language. Examples are explanations of diagnostic tests such as discograms and facet joint injections, as well as treatment options including cervical fusion interventions, radiofrequency ablations, and cervical epidural injections. These tests, diagnoses and treatments are often associated with cervical injuries sustained after a motor vehicle accident, water sports and/or other sports activities, in addition to chronic conditions such as cervical arthritis and discogenic pain.
This new website offers a contemporary look coupled with a streamlined user experience. It is a true resource for those who are injured and/or helping their loves ones deal with injuries. Users will find surgical procedures explained in a concise and simple fashion. Additionally, those recently diagnosed with severe spinal injuries can quickly educate themselves as to their surgical procedure thereby being better equipped to discuss their physical condition and treatment program with medical providers. Patients who have been advised to obtain a cervical fusion will appreciate this resource.
The site was created by attorneys who have spent decades handling claims for victims recovering from spinal and neck injuries. The creators of this website have observed that following traumatic incidents many victims feel overwhelmed by the plethora of tests and diagnoses, by their ongoing pain, or by their fear of surgical intervention. Therefore the site was created avoiding bulky language and with the goal of empowering victims of spinal injuries to quickly understand their injuries and treatment options.
Often, those injured in sports and diving related incidents may have led a healthy and active lifestyle prior to injury and are concerned as to how such injuries will impact their future and if a recovery is possible. This new website will aid those injured by explaining in everyday language what these diagnosis actually means for their future and help victims come to a realistic conclusion about their recovery.
Another feature of this website is that it allows visitors to better understand neck and spinal injuries unrelated to traumatic injury but incurred due to the aging process as well as practical ways to reduce osteoarthritis.
Mr. Smith, who has been a trial attorney since 1982, has a coveted Avvo.com rating of 10.0, has successfully resolved thousands of California accident cases, and provides free case evaluations for those who have suffered injuries. Free information and resources are published on his main website (http://www.AutoAccident.com) as well as on his new website.