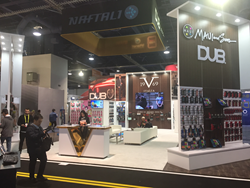 Miami, FL (PRWEB) January 26, 2017
Naftali Inc's brands bring cutting-edge wholesale products to retail stores nationwide. Not only are these products in high-demand, they have a solid history of quality. Naftali Inc. is now offering wholesale mobile accessories and wholesale travel accessories for their new brands: DUB, V19.69 Italia, Pink Fizz, and Maui & Sons. Naftali Inc's collection includes products such as iPhone cases, portable chargers, Bluetooth speakers, headphones, luggage, and more.
"Our products represent what consumers want," Yosi Naftali, CEO of Naftali Inc. remarked. "Personalization is the buzzword of 2017; people want their travel accessories to reflect their personality and lifestyle – which is why we work with V 19.69 Italia, Maui and Sons, and more."
CES represents only the latest in consumer technology, and Naftali Inc's products are designed with innovation in mind. With bleeding-edge technology, CES attendees are taking advantage of Naftali products. Over 170,000 attendees from across the globe gather in Las Vegas, NV each year to learn about the latest tech products and novelties.
Naftali's latest homerun, V 19.69 Italia, demonstrated that cell phone accessories and effortless chic can be combined. "Gone are the days of kitsch travel gear and cheap-looking cellular accessories. People are willing to pay a premium for quality, and we place huge emphasis on quality assurance as a result," Naftali stated.
Naftali Inc. was incorporated in 2009, just as the demand for cell phone and travel accessories spiked. "Mobile and travel accessories are a very hot market, nevertheless, we make sure that all of our products meet stringent quality standards before being released to our customers." Yosi added.
Naftali's products fulfill the company mission to provide faster service, enhanced distribution, and customer satisfaction. "We help retail stores sell quality travel accessories and mobile merchandise to their customer base."
Naftali Inc. products can be found in national retailers, such as: Office Depot, Office Max, Staples, CVS, Walgreens, TJ Maxx, Verizon, and more. "Although we are a local company at heart, we have an international distribution network. Companies associate our name with quality," Yosi closed.