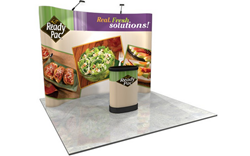 This is one of our most popular pop up displays because it's portable, lightweight and makes a huge impact at events.
Las Vegas, NV (PRWEB) November 21, 2013
Displays and Exhibits, a leading online retailer of trade show booth displays and branding accessories, is offering free delivery and installation with the purchase of a 10' Curved Graphic Pop Up Display for the upcoming International CES trade show in Las Vegas, Nevada with the promo code CESFREESHIPPING.
This running Pop Up Display promotion helps exhibitors from around the globe showcase their brand with a professional trade show booth that includes free set-up.
As one of Displays & Exhibits best-selling products, the Curved Graphic Pop Up Display is already competitively priced, but after eliminating pricey delivery and installation costs, this fan-favorite design becomes an even better deal for CES booth exhibitors. Brands seeking an informative and inviting trade show booth and looking to save big on marketing budgets will love the current CES promotion.
Curved Pop Up Displays offer exhibitors a superior trade show booth, enabling brands to stand-out amongst other competitors on the floor with a large eye catching 10' graphic. The open curved design allows staff and visitors to move freely for a comfortable experience. Made with a sturdy-yet-lightweight aluminum structure, the materials in this special offer feature domestic production made in the USA.
Complete with a lifetime warranty, the 10' Curved Graphic Pop Up Display is easy to transport and will serve brands long past their International CES trade show appearance, making it an unbeatable investment for exhibitors.
Displays & Exhibits also offers a large selection of additional marketing tools and accessories, including slatwall panels, hanging signs, iPad kiosks, table top displays and more. Displays & Exhibits works hand-in-hand with exhibitors from small to large organizations across the country in providing top quality trade show booth materials that deliver results time and time again.
For more information on this promotion for International CES show exhibitors, call (888) 282-8858 or visit http://www.displaysandexhibits.com.
About Displays and Exhibits:
Displays and Exhibits is a division of Absolute Exhibits. Established in 2000, Absolute Exhibits began as a portable/modular distributor, and now rents large custom exhibits at over 300 shows in the USA and in countries around the world.
Displays & Exhibits was created to serve the needs of first-time exhibitors, seasoned exhibitors that go to multiple local, regional, national and international shows and clients that do community work, in-house events, fairs, and festivals. The company offers portable banner stands, display boards, digital kiosks, display lights, display signage, and exhibit furniture.