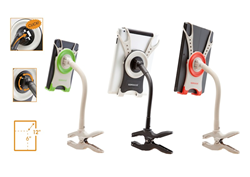 The Sqweezel is a design savvy product that achieved the development goal of securing any tablet computer while being robust. "It is a tool, not a toy."
Boulder, Colorado (PRWEB) December 29, 2014
Nielsen Products, LLC will be introducing the Sqweezel Universal Tablet Holder at the Consumer Electronics Show 2015. Booth #74674 in the Sands Expo. After months of focus and success within the specialty hardware industry, it is now being launched into the Consumer Electronics Market.
The SQWEEZELTM Universal Tablet Holder and Mount is a flexible and reliable hands free tool to keep your tablet safe and secure. The quick connect/disconnect holder of the SQWEEZEL will work with any tablet, with or without a case or cover. The large clamp, flexible arm, and quick release rotating attachment point allows for tablet use in a wide variety of settings. A surface mount model is available for use in a home, work or educational environment. The Sqweezel has been widely recognized as the most mobile mounting system available. It is unique in that it packs down quickly and easily and can be set up anywhere you go.
The SQWEEZEL can be used in the kitchen, garage, workshop, warehouse, hospital, classroom; and both indoors and outdoors. The SQWEEZEL can be used anywhere one needs a quick, flexible, hands free tablet attachment to keep a tablet away from the fray.
Company president and product designer Corey Nielsen found during market research that the majority of the products were tablet specific, did not offer quick connect and release holders and were cumbersome to use. The Sqweezel is a design savvy product that achieved the development goal of securing any tablet computer while being robust. "It is a tool, not a toy."
Nielsen Products, LLC will have the unique opportunity to introduce the Sqweezel in person to more than a million show visitors including buyers and customers equally.
Contact Nielsen Products to discuss distribution opportunities.
PO BOX 902332
Sandy, UT 84090
United States of America
Phone: +1 800 2171114
Fax: +1 888 3089317
Email: sales(at)nielsenproductsllc(dot)com
Website: http://www.sqweezel.com