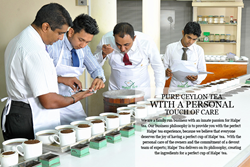 Moreover, research findings show the health benefits of tea. It contains no calories, sugar etc. This makes it undoubtedly the second best beverage on earth. For me tea is not just a commodity or a beverage, it's a way of life…
Colombo, Sri Lanka (PRWEB) April 02, 2014
Halpé Tea, a family owned business producing delicious single estate & single origin Ceylon tea for over 40 years, proudly launched its online shop recently. This new venture allows tea enthusiasts from all corners of the globe to purchase single estate & single origin Ceylon Tea products directly from the producer with just a few clicks.
Halpé Tea aims to allow customers to truly identify and experience the richness of pure single origin tea. According to Halpé Tea's Director Mr. Eranda Abeyrathne, the company guarantees the highest quality of single estate & single origin teas. "Our family-run business enables me and my family to oversee every single step of the manufacture of tea: plucking, quality checking, withering, rolling, fermenting, etc; from the tea leaf to the tea cup. Our new online shop enables tea enthusiasts all over the world to have factory fresh tea from our plantation delivered to their doorsteps within a few days."
The new online shop sells various branded packaging items such as natural fruit and herbal tea, flavoured tea, an assortment of tea bags and traditional tea craft items which make the perfect gift for loved ones. Halpé Tea also sells bulk tea of various grading: whole leaf grades such as Orange Pekoe (OP), Orange Pekoe 1 (OP1); broken leaf grades including Broken Orange Pekoe (BOP), Flowery Broken Orange Pekoe (FBOP) and fannings grades such as Broken Orange Pekoe Fannings (BOPF), Flowery Broken Orange Pekoe Fannings Special (FBOPFsp or FFsp).
Uva Halpewatte Tea Factory, which manufactures Halpé Tea, was founded in 1971 by Mr. A.P.D. Abeyrathne in Sri Lanka's Uva region – an area renowned for its unique black single origin tea with a distinct flavor and exotic aroma. Since then, the company has grown from strength to strength, with a 2000% expansion since its inauguration, and successfully produces and exports factory fresh unblended Ceylon Tea worldwide. Halpé Tea ensures the highest standards in manufacturing, winning several accolades for consistency in product quality and is the number one tea factory as well as the largest tea producer in Sri Lanka's Uva region. In 2013, Uva Halpewatte produced over 1.3 million kg of tea, amounting to 13.5% of total Uva medium category tea manufactured.
Social responsibility, employee satisfaction and sustainable farming are integral components embedded in Halpé Tea's business philosophy. Halpé Tea sources more than 60% of bought tea leaf from Sri Lanka's Tea Small Holders - helping over 5000 small tea farmers support their families. In addition, the company conducts various CSR activities including health awareness programs, scholarships for local students, housing schemes and access to free clean water and electricity for workers and many more. Halpé Tea encourages a strong work-life balance for its staff, and strives to provide the best working and living conditions for employees.
Halpé Tea has taken several measures to reduce their carbon footprint including tree planting programs, installation of energy-efficient machinery and disposing of tea refuse in environmentally friendly ways. They have also shifted from traditional packaging to more eco-friendly packaging, to help make their products more biodegradable. The latest products in their sustainable range include mini tea paper sacks, reed tea chests and hand-made tea bags, which can be found on their online shop. The company holds several industrial design certified and patented products in their sustainable tea range - an outcome of years of research and development in sustainable innovation, proving their commitment and continuous efforts to become environmentally friendly.
About Halpé Tea
Halpé Tea is an established family owned business that produces and exports high quality single estate & single origin pure Ceylon Tea to all corners of the globe. From plucking to manufacturing, Halpé bulk tea and branded packaging items are sold directly without the involvement of intermediaries, ensuring the highest standard of quality in products. Halpé Tea bears the lion logo: a symbol of quality granted by the Ceylon tea board.
More details about Halpé Tea's Ceylon Tea products can be found at http://shop.halpetea.com/ceylon-teas.html.