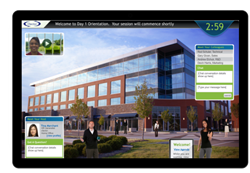 One client has decreased the time required to conduct orientations by over 90% - from approximately 37 hours per week to 3 hours per week.
Saskatoon, SK (PRWEB) August 28, 2013
cfactor Works Inc. (cfactor), developer of socially infused Human Resource technologies, announced the availability of Virtual Day 1, a highly immersive and interactive employee orientation experience.
Virtual Day 1, part of cfactor's Onboarding product suite, provides a comprehensive means to acclimate and welcome new employees to an organization through moderated, highly dynamic sessions. While each company can tailor the content to their own programs, common sessions include engaging new media to introduce:

Key leadership, culture and goals
Benefits and 401K packages
Company specific programs
In the sessions, employees are also empowered to explore interactive kiosks to connect with colleagues and mentors, view department/location specific information, and even start to complete their new hire paperwork online. Embedded real-time chat enables employees to ask questions of the moderator and virtually connect with other participants.
"cfactor is very excited about Virtual Day 1 and the significant benefits it offers to our clients," said Cary Schuler, Co-Founder & CEO at cfactor. "Our clients are putting their best foot forward in offering an immersive, exciting new employee orientation experience, while driving significant efficiency gains in the amount of time required to orient employees. One client has decreased the time required to conduct orientations by over 90% - from approximately 37 hours per week to 3 hours per week."
cfactor will be showcasing its Virtual Day 1 product at Booth #1045 at the upcoming HR Technology Conference & Exposition at the Mandalay Bay in Las Vegas, October 7th and 8th, 2013.
Since its inception, cfactor has been recognized by organizations like Ernst & Young, the Canadian Innovation Exchange and the SIIA for its game-changing human resource and talent management software. Working primarily with mid-to-large enterprises that represent hundreds of thousands of employees across a variety of industries, cfactor consistently delivers social enterprise products that are highly configurable, improve employee performance and deliver a proven ROI.
cfactor can be followed on various social media channels, including LinkedIn, Twitter (@cfactorWorks), Pinterest and the cfactorConnections blog.
About cfactor Works Inc. (cfactor)
cfactor is a socially-enabled, integrated HR management, communication and collaboration suite. The cfactor system-of-record uniquely leverages existing systems while delivering engaging, productive employee experiences for hundreds of thousands of employees.