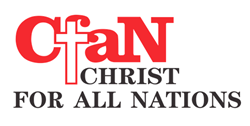 Our eyes are focused up ahead on the future as we see even greater things as fully possible with Daniel Kolenda moving the ministry into a new and powerful dynamic.
ORLANDO, Fla. (PRWEB) March 22, 2016
Christ for all Nations (CfaN), a non-denominational missions organization known for its crusades in Africa, announced that it has surpassed a historic milestone of 75 million converts to Christ. Led by global evangelist Reinhard Bonnke, who was honored last year at the 2015 Empowered 21 Global Congress in Jerusalem with a Lifetime award for Global Ministry, surpassed the ministry's previous record of more than 73 million people who have "made registered decisions to follow Jesus Christ," according to Christian Post Reporter Sam K. Martin.
German-born Bonnke has dedicated himself to leading crusades to preach the Gospel of Jesus Christ to the world's population.
"My full attention is on Africa," Bonnke said at the time. "I have no message of hate. I do not attack any religion. I just preach Jesus."
Today, the CfaN ministry has offices in the United Kingdom, Nigeria, South Africa, Singapore, Australia, Hong Kong, Canada, Germany and the United States.
CfaN President Daniel Kolenda, a fifth generation preacher who ministers with Bonnke to some of the largest evangelistic events in history, is a modern missionary evangelist poised to continue Bonnke's vision as his successor to lead CfaN in the future. According to the CfaN website, Kolenda ministers around the world preaching a single minded Gospel message followed by signs and wonders. CfaN reports that it has counted in excess of 17 million decisions for Christ as a result of Kolenda's commitment to the ministry.
"As we pass the historic milestone of 75 million people making a decision for Jesus Christ in our crusade meetings, and them being ushered into the comprehensive church follow-up system, our eyes are not on the past," says CfaN Vice President Peter Vandenberg. "We do praise the Lord for His amazing grace in all of this but our eyes are focused up ahead on the future as we see even greater things as fully possible with Daniel Kolenda moving the ministry into a new and powerful dynamic, based on the successful past and building toward an even more productive future in evangelism."
On February 21st, Kolenda completed a four-day CfaN Gospel campaign with 409,920 registered decision cards in Bouaké, Ivory Coast, and he has CfaN events scheduled in the U.S., Germany, Singapore, Switzerland, Slovakia, Zambia, Paris France, Norway, Canada, Brazil and other countries around the world through April, 2017.
To learn more about the Christ For All Nations organization, visit the CfaN website, email srodriguez(at)cfan.org, or call 407.854.4400.
About Christ For All Nations (CfaN):
CfaN is a non-denominational missions organization, aimed at taking the Gospel message to the world. Christ for all Nations is primarily known for its historic crusades in Africa. Since the year 2000, the ministry has recorded 55 million documented decisions for Jesus Christ at major events in Africa and other parts of the world.
For more than 40 years, Evangelist Reinhard Bonnke and Evangelist Daniel Kolenda have been conducting crusades worldwide. Details of each crusade are available online. CfaN-TV broadcasts the weekly television program "Christ for All Nations" with Daniel Kolenda, also available to view online. The ministry offers theologic courses and Bible study programs from its website, as well as the Reinhard Bonnke School of Evangelism, a 4-day training program and launchpad for future evangelists. The CfaN website also offers a variety of books, booklets, DVDs, audio CDs, posters, bundle packs and more. CfaN books have been published around the world in 140 languages.
###