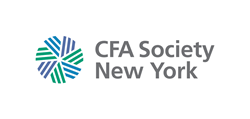 New York, New York (PRWEB) June 19, 2017
On Tuesday, June 27th, join CFA Society New York—formerly known as New York Society of Security Analysts (NYSSA)—for "The Cyber Security Threat and How Money Managers Can Protect Themselves."
This event, hosted by CFA Society New York's Business Management Group, will explore a critical issue facing money managers–cyber security–and what they can do to protect themselves.
The discussion will be led by subject-matter experts from the FBI, DTCC, technology firms, compliance specialists and money managers.
"Cyber-risk presents money managers, and the overall financial system, with tremendous challenges from a financial, regulatory and reputation standpoint," said Robert Akeson, Chief Operating Officer of Mirae Asset Securities (USA) Inc. "CFA Society New York has assembled a group of experts who will speak to the broad scope of these challenges and offer achievable solutions."
This event will help members and others to understand the severity of the cyber-security threat and take steps to prepare for it.
"Cyber security can no longer be considered a distraction by management, or merely relegated to the IT department," said Arthur Vaccarino, Chief Technology Officer of IONIC Capital Management LLC. "It's the responsibility of every person in the firm to take an active role in mitigating the risk."
Money managers will be pointed toward the most crucial potential concerns and what steps they can take to protect themselves.
"While the onslaught of cyber-attacks continues to adversely affect the financial services industry with almost no end in sight," said Michael Brice, Principal of BW Cyber Services. "I'm confident that money managers can remediate the most pertinent of these risks that either affect their business now or will in the very near future."
To register and obtain more information, including the full slate of speakers, organizers, biographies, sponsors, and a detailed agenda for the marquee event, please visit: https://www.nyssa.org/event/cyber-security-threat-money-managers-can-protect/.
DETAILS
Date & Time: Tuesday, June 27th | 6:00 pm – 8:00 pm
Cost: $15 for Members | $45 for Nonmembers
LiveStream: Free & Available to Members Only
Location:
CFA Society New York | Conference Center, 1540 Broadway, Suite 1010
About CFA Society New York CFA Society New York—formerly known as New York Society of Security Analysts (NYSSA)—is the local member society of CFA Institute, the global association of investment professionals that sets the standard for professional excellence and credentials. The organization is a champion for ethical behavior in investment markets and a respected source of knowledge in the global financial community. The end goal: to create an environment where investors' interests come first, markets function at their best, and economies grow. For more information, visit https://www.nyssa.org.
##